Winners of six of their last seven, Dusty Baker has some issues with his ball club, perhaps, but he remains optimistic as he watches the scoreboard and roots for the Pirates and Cardinals to damage their respective chances.
Have those white towels everybody threw into the air landed yet — the ones everybody tossed skyward after the St. Louis Cardinals emasculated the Cincinnati Reds in Great American Ball Park recently?
If not, catch them before they hit the ground because there is not yet reason for the Reds to shout, "No mas, no mas," even if they are playing these days like the Bad News Bears farm team.
They can't hit, they can't field, they can't run the bases, but as of this writing they have won six of seveb with six games dead ahead against the dregs of the National League Central — the Clueless Cubs and the Besmirched Brewers.
And since the Cardinals run-ruled the Reds twice they can't win a game. And the Pittsburgh Pirates are faltering ever so slightly.
After the Cardinals left town the Reds were seven games out of first place. Little more than a week later they were 4 ½ behind, stumbling their way to take two of three from the Punchless Padres, in spite of themselves.
Here's the skinny: the Reds have 13 games remaining with the two teams ahead of them — seven against the Cardinals and six against the Pirates.
If they somehow fill the termite holes in their bats, if they somehow patch the webbing in their gloves, if they somehow fix their feet so they know how to run the bases, all is not lost.
Manager Dusty Baker, chomping on his specially-made toothpicks, never tossed the towel in the first place. He is optimistic by nature, even a bleary-eyed optimist.
It is the time of year when scoreboard-watching is about as prevalent as an ornithologist watching birds and Baker watches like a hawk, looking for the cracks appearing in the Cardinals and Pirates.
Baker is bird-watching ever day, watching the progress — or lack of progress — of the team that wears two birds on itss chest, the Cardinals.
But the Cardinals aren't the only team Baker follows because, "It's no different for me because I watch the scoreboard every day, right from Opening Day. That's just what I do."
And as the season progresses, Baker becomes a fan as he watches the scoreboard, "Rooting against the teams ahead of us and closest to us."
That means Baker roots hard against the division-leading Pirates, 4 1/2 games ahead of the Reds in the National League Central. And he roots hard against the second place St. Louis Cardinals, two games ahead of the Reds.
The Reds are comfortably ahead for the No. 2 National League wild card spot, 6 games ahead of the Arizona Diamondbacks. But Baker says he pays little attention to the D-Backs, other than to notice their scores.
"I don't believe in looking back because it's like Satchel Paige always said, 'Don't look back, something might be gaining on you.' So why would I look backwards? The fans can look back, but I ain't lookin' back."
But he does notice all the scores, especially teams the Reds are scheduled to play in the immediate future, "To see who is hot and who is not."
When Baker goes home after games he doesn't go straight to bed, especially Saturday night when sleep would be difficult after his team made four errors, a base running blunder and lost to the San Diego Padres, 3-1. They had four hits and four errors.
But he always stays up and even when he goes to bed the television is on in the bedroom.
"I watch baseball until I fall asleep," he said. "Every night. I'm always trying to pick up something — how is a pitcher pitching certain guys, pick up any tendencies. Hey, that's my job and I like my job. Contrary to popular belief, I'm very aware and try to stay ahead of the game. I try to know what's going on all the time."
Baker smiled and recalled Saturday's nightmare. He benched third baseman Todd Frazier because the Padres pitched Tyler Ross, a slider-throwing machine and Frazier has difficult putting sliders into play.
In Frazier's place Baker inserted slick-fielding Jack Hannahan. He was not so slick on this night and made three errors and left the tying run on base with two outs.
"It may not always work, like Saturday," Baker said. "Sometimes it just ain't going to work. Guess what? Sometimes it just doesn't work. But I study it. I read it and watch it, I like watching baseball.
"You can see a manager's tendencies, see a catcher dropping to his knees on pitches before he throws the ball back to the pitcher. If you really watch in depth there is a whole bunch to see," he said.
"For those panicking about this team, well, we're in pretty good shape," Baker added. "We could be the San Francisco Giants (last place, 14 games out), we could be the Washington Nationals (second place, but 14 ½ games out). What if we were them?"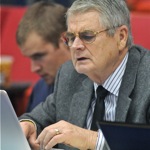 While watching the scoreboard Baker noticed that the Cardinals have lost 15 of their last 18, and two of those wins were over the Reds. Despite the St. Louis slide, the Reds have made little progress in catching them — so far.
"It's up to us to win," said Baker. "Simple as that."
And to do that his team can't make four errors, can't continue to swing fly swatters instead of baseball bats and can't continue to make a plethora of base running blunders.
"I'm not going to call it dumb baseball because I hate that term," said Baker of his team's many gaffes on the basepaths. "It's the lack of quick thinking that bothers me. That's something you can't teach. You have to think while the play is in progress."
And there are those that believe Baker isn't aggressive enough or reactionary enough when his team makes mistakes. To that he smiled and said, "Fortunately, they don't put the camera on me when we make those mistakes."