Slow to warm to the mound and local writers, Mat Latos' recent turnaround is a breath of fresh air, on and off the field.
Mat Latos is an odd fellow, and not just because his body looks as if Picasso practiced on it with colored ink. And if one thinks Latos has a lot of tattoos, well, they need to check out his wife.
During spring training, Latos was asked how many tattoos he has and he said, "Just one, but it isn't finished yet."
When the Cincinnati Reds acquired the 24-year-old righthanded pitcher from San Diego, sending half the population of Louisville to the Padres, the San Diego media said, "He's a bit different. And good luck."
His first interview this spring was a delight, but his cantankerous personality quickly surfaced with the writers.
The clubhouse in Goodyear, Ariz., where the Reds train, is exactly one mile from the stadium. So when pitchers are finished in an exhibition game, the writers scramble behind the right field wall to a door where the players leave the stadium and board a bus that takes them to the clubhouse.
Pitchers generally stop inside the door and give short interviews about their day's performance, good, bad or indifferent.
On the first day Latos pitched, the writers gathered as Latos walked through the door and was stopped by Reds media relations direction Rob Butcher.
"Give the writers five minutes, please," said Butcher.
"Naw, I have stuff to do," he said. "Have them come down to the clubhouse." Butcher pointed out that the writers had to stay to cover the rest of the game, but Latos was adamant that he didn't have time.
"Just five minutes," Butcher pleaded. Latos said that Bronson Arroyo didn't stop and that the writers went to the clubhouse to interview him. Untrue. Arroyo always stopped and gave as much time as the writers needed.
Latos argued with Butcher for five minutes, the five minutes he could have given the interviewers. Finally convinced, he gave one and two-word answers to each question.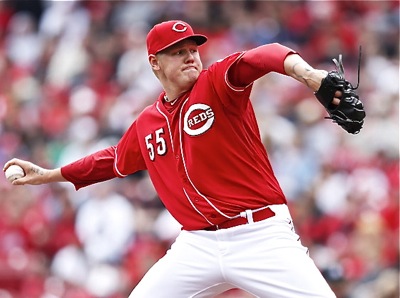 Move now to the regular season and a sluggish start by Latos. He gave up five home runs in one game in Great American Small Park, but still won the game.
The media gathered around his locker, waiting for a postgame interview. He took his time in the shower before walking out with a towel wrapped around him.
He reached his locker and turned his back on the media and slowly dressed, very slowly. It took him two minutes to put on each sock. Then he got up without saying a word and walked through a door to complain to a Reds officials, "The media is crowded around my locker, can't you make them move away." He was told to do his own dirty work.
When he came back to complete buttoning up his civilian clothes, fellow pitcher Mike Leake walked by and said, "Quit being a jerk. These guys have families they want to go home and see, too."
Whether what Leake said hit home or whether somebody else got to Latos or whether the maturation process is blooming, there has been a turnaround.
After a recent controversial start in which he threw a pitch high and tight at Cleveland pitcher Derek Lowe, Latos was Mr. Personality. Remembering what he did before, he even said, "Come on in closer." And he was a delight.
Latos not only endeared himself to the writers that day, he upped his team-first quotient dramatically that day by doing what was asked of him by manager Dusty Baker.
It was Baker who told Latos to send Lowe a message pitch, something hard and tight, to remind Lowe that Baker and the Reds hadn't forgotten that day in 2009 when Lowe put a pitch between the shoulder blades of Joey Votto.
So when Lowe came to bat in the fifth inning, Latos fired the buzz-bomb. After the game, Lowe screamed as if somebody stole his Maypo cereal and aimed most of his epithets at Dusty Baker.
The next morning, after Lowe had his say, I was standing near Latos when he looked at me and said, "I'll bet you want to talk to me about Derek Lowe."
Indeed. And Latos didn't disappoint.
"My first reaction is that I was shocked to hear a veteran pitcher like Lowe whine like he did," said Latos. "If I wanted to hit him, I would have hit him," he said. It wouldn't have been something that was close. It was 96 miles an hour and inside, a two-seamer. I throw inside to all hitters, including pitchers. I've never heard a veteran whine so much about nothing.
"It is whatever he wants to think and we'll let him play into his ego. If he wahnts to whine about it, let him whine about it."
When Latos was told that Lowe could have retaliated by throwing at him, Latos said, "Lowe doesn't throw hard enough for it to hurt, so I wasn't too worried about it. If he wanted to retaliate, he could have. But he didn't and that's pretty crappy, to be honest."
About the Lowe-Baker history, Latos smiled and said, "I've heard this and that. He drilled Joey in the back a while back. But I wanted to hit the man, I would have hit him, no ifs, ands or buts."
Baker admitted he told Latos to send the message, but also said he told Latos not to hit him, just buzz him.
Lowe said his issue with Baker goes all the way back to 2008, when he pitched for the Dodgers, and there was an incident that he said was started by Baker that escalated and nearly got people fired, people on the periphery of what went down. And he said he didn't respect Baker. He wouldn't elaborate and said to ask the Reds manager about it.
"That is something I didn't want to make a public scene or a public spectacle. But he brought it up and had some really choice words about me. But I don't care if he respects me or not. I don't what what he says. Doesn't matter."
Baker brought up the Votto incident and the fact that Lowe hit Brandon Phillips after Latos buzzed him.
"Then he takes exception to a ball inside that didn't even hit him," said Baker. "Then he hits Brandon. I'm not denying nothing. I didn't tell (Latos) to hit him, but I did tell him to buzz him and make him uncomfortable. And that's what happened."
There is history history with Phillips, too. Ever since the Indians traded Phillips to Cincinnati, Phillips has spoken disparagingly of the Tribe and has taken it out on the Wahoos with his bat — eight for 13 with two homers and seven RBIs during a three-game sweep.
Of the 2008 issue, Baker said, "Since he made it public, go ask him what he said and what he did then. Since he is such a big man who likes to run his mouth about himself, ask him. I don't care if he doesn't respect me. He doesn't respect himself. The word was that whatever he did and said back then, he was probably drinking at the ball park at the time, so he probably doesn't rmemeber what he did or said."
The next morning at Latos sent a horsehide message to Lowe, Latos was sitting in front of Baker's desk in his office, probably receiving the manager's thanks.
And is it over? Maybe not. The Reds and Indians play Monday in Cleveland, with those two on the mound again. But with the designated hitter in place, neither Latos nor Lowe will walk to the plate.
But others will. Stay loose.

Hal McCoy's coverage of the Reds on Press Pros is proudly sponsored by the Buckeye Insurance Group, insuring the heartland for 130 years.