Hall of Famer Hal McCoy with answers from recent questions sent to Press Pros.  If you have one, send it along.  If your question is published on Press Pros, we'll send you a gift certificate for a plate of Szechaun lo mein from a certain Chinese restaurant in north Dayton.  A hint to the wise:  Never order it hotter than 3 on a scale of 10.
Now…the questions!
Hal:  Love reading your columns on Press Pros.  But can you tell me why Reds players are so impatient when it comes to hitting?  The other day it took five pitches by the Cardinals pitcher to retire them in the "first" inning and Marty was going nuts.  I see high school teams that are more selective than the Reds.
Paul Miller
McCoy:  Patience is, indeed, usually a virtue. But not always in baseball. Pitchers always want to get ahead of hitters and often throw a first-pitch fastball that is very hittable. Sometimes it is the best pitch they'll get to hit in the entire at-bat. And batters don't want to fall behind 0-and-1. I agree that if later in the game if a pitcher is wild that a batter should make him throw strikes. But in that St. Louis game, Kyle Lohse was throwing nearly nothing but strikes, forcing the Reds to swing or take strikes. It's a fine line. I used to swing at first pitches a lot, too, but I couldn't hit them.
 Hal:  If the Reds aren't playing .500, or within striking distance of the Cardinals by June 1st, will Dusty be gone?
Mike Francis
 McCoy:  Mike, that's a tough one because I can't get inside the heads of GM Walt Jocketty and CEO Bob Castellini. They will make that decision. Walt is a patient man, but Bob isn't. He is an impatient man who wants to win now. It probably will be a battle of wills. The Reds are in a very weak division (only the Cardinals over .500), so I don't see the Reds falling too far behind because they have a lot of games against the feeble teams in the division — Cubs, Astros, Pirates.
 Hey Hal:  Can you tell me why there's so much optimism for the Reds in 2011?  When you consider this lineup:  1) revolving door in left field, 2) the strikeout king in center, 3) which Jay Bruce to you get in right?, 4) an old Scott Rolen at third, 5) an untried rookie at shortstop, 6) an untried rookie behind the plate, 7) an unknown in the pitcher they traded all the prospects for, 8) the closer never got to throw a pitch, 9) there is no thump coming off the bench.  When you consider those nine, that's a pretty tough lineup to overcome.
Joe B…Siesta Key
McCoy:  Joe, if you live in Siesta Key, you should have a great, positive outlook about everything instead of a long stream of negative questions. All nine of your questions could easily turn to positives — Ludwick looks as if he could take over left field, Stubbs is making much better contact and taking a better approach, when Bruce is hot he carries the team, Rolen is a concern at the plate right now, but is a veteran who knows the game and could snap out of it, Cozart looks very solid, Mesoraco looks like a future star behind the plate, at the moment Sean Marshall is 3 for 3 in saves, the bench is a problem, but Heisey is good off the bench, Cairo is consistent and whichever catcher isn't in the game can provide hitting. See, I can take all nine of your points and make them sound easily positive.
Mr. McCoy:  How would you compare the overall experience of going to the ballpark to watch a game today compared to when you first started covering the Reds?  I remember Riverfront Stadium being more fun growing up because you could walk around without someone hassling you about having a ticket, or moving to a better seat that's empty after the fifth inning.  Thank you.
Jonathan Jordan
McCoy:  Jonathan, that's tough for me to answer that because my situation is different. I have the same seat in the press box every game and nobody hassles me about anything. And the hot dogs and ice cream are free after you pay $7 for a media meal before the game. I'm not so sure Riverfront was that great of an experience when Dick Wagner was a Reds executive. He made certain fans walked the straight and narrow and he fined players $50 for throwing baseballs to the fans. The ballpark always seems like a great place when you are a wide-eyed kid. When we get older, we look at things with a more discerning eye.
Hal:  The TV announcers talk incessantly about all the talent the Reds have in their minor league rosters.  Is this actually true?  And who are some of those players that we might actually see soon?
Mike from St. Marys
McCoy:  After Marge Schott destroyed the farm system by firing scouts and not investing money in the system, it was a slow process rebuilding it. But slowly and sharply the Reds have rebuilt it into one of the best in baseball, a system full of good talent. I could give you 50 names of top prspects, but just who might make it quickly is a tough call. It depends on need and what position a player plays. The Reds are full of long-term contract players now and I'd hate to be a first baseman behind Joey Votto and a second baseman behind Brandon Phillips or a shortstop behind young Zack Cozart.
 Hal:  How are the players the Reds traded for Matt Latos and Sean Marshall (Alonso and Wood) doing for their new teams?  Thanks.
Bob…Newport, Ohio
McCoy:  Alonso started fast the first week, but has tailed off and isn't hitting right now. But it is way too early to judge trades after 16 games. Latos, too, is off to a bad start. As for Travis Wood, he didn't make the Cubs rotation and is in the minors while Sean Marshall is three for three in saves, so the Reds are way ahead in that one . . . so far. But trades can't be judged until a long period of time, sometimes three or four years to see how players perform over the long haul.
 Hi Hal:  Can you please rate Walt Jocketty with past Reds GMs in terms of baseball knowledge and administrative skills…Krivsky, Bowden, Dan O'Brien, Bob Quinn, and Bob Howsam?  I'd love to see your comments?
Tom…Troy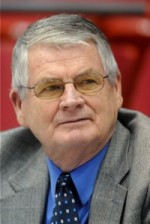 McCoy:  Tom, like all people in all jobs, everybody has their strengths and weaknesses. Jocketty is good at judging talent and making trades, not so big on developing players. Krivsky was great at drafting and developing players, but his people skills were not so good and that's what got him fired. Bowden had Marge Schott's cheap ways hanging over his head and was strapped for money. That's why he was constantly picking up old and injured players, trying to squeeze that last ounce of talent out of them. His people skills, though, were awful. Bob Quinn had the same problem as Bowden (Marge Schott), but he was one of the nicest men on the face of the earth. O'Brien was another good guy with the farm system, but not so good at the major-league level and his trade of Sean Casey for pitcher Dave Forgetable (even I forget his last name right now) was one of the worst ever. Bob Howsam? The best GM I ever saw and one of the best ever in baseball. He built The Big Red Machine. Enough said.
Hal:  Is it just my imagination, or does Scott Rolen remind you of Johnny Bench during his final days as a Red…slow, stiff, and frustrated over his diminished skills?  BTW, I like Press Pros very much and your columns are a wonderful addition.
Rick…Piqua
 Thanks, Rick, for the kind words. That's a good analogy, especially at the plate. Rolen, though, still plays a great third base. Bench never could play it and got very mad at me for writing during spring training when he tried to play third base, "Bench is doing a great imitation of a croquet wicket trying to play third base."
Hi Hal:  An unsolicited question from my own personal domocile.  Speaking from your own experience, what's it take to have the ultimate "Man Cave"?
Mike from Wheelersburg
McCoy:  Mike, start with an old refrigerator in the garage and fill it with Yuengling beer. The rest of it is just decorative, except for the obligatory TV. The Yuengling makes certain that you always have plenty of pleasant companions sitting on the couch and chairs with you. I also have a lot of baseball memorabilia hanging on the walls. The important thing, though, is you and your friends and a Reds game on the tube.

Hal McCoy's Reds' spring training reports are proudly sponsored by the Buckeye Insurance Group…insuring the Heartland for over 130 years!