The latest questions from PPM readers for Hal McCoy…including the family Freese (?), and Joey Votto's language.  Are we running out of wood for ball bats?  And why don't you see the suicide bunt anymore?
From Dave in Beavercreek:  Would it be prudent for the TV cameras to aim somewhere other than at Joey Votto after he strikes out?
DAVE: If you are referring to Mr. Votto screaming, "Fudge," after he strikes out, well, I see nothing wrong with that. And there was the time I could read his lips and he said, "Son of a witch." Nothing wrong there. Nothing at all. Freedom of speech, you know? Baseball players talk the same way as Joe Citizen and are not subject to the Clean Air Act.
From Steve in Greenfield, Ind.:  Hal, the recent series with the Cardinals posed an interesting contrast.  Two teams that weren't hitting the ball very well, yet the Cardinals approach appeared so much more professional and mature:  Make contact, put the ball in play.  This seems to be an ongoing issue for a team plagued by strikeouts and runners left on base.  Do others, including you, question the maturity and selfishness of members of this baseball team?
STEVE: Selfishness? Rather harsh, my friend. No I haven't heard that much in the press box or in the clubhouse. It is so easy to say things like, "Make contact, put the ball in play, don't strikeout." Employing it is another matter. If a player, like Jay Bruce, is a free-swinger and has been his entire career, it is no easy thing for somebody to change him or for him to change himself. This is pretty much the same team that won the division two of the last three years and this is the way they did it. Why would theyu change? The season is barely a month over and they are right there, sniffing at the Cardinals. Like Frank Sinatra, they'll do it My Way and be just fine doing it.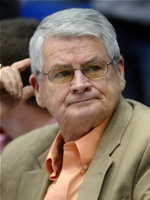 From Walter, in Sarasota:  The season's only a month old, but Zach Cozart appears to be overmatched hitting second.  Pitchers have obviously adjusted to his early success last year.  Was he rushed to the big leagues too soon relative to his experience and ability to make his own adjustments?
WALTER: Man, it's a tough crowd, as Rodney Dangerfield would say. Here is a kid who did extremely well batting second in the order last year and finished in the running for Rookie of the Year. His defense was impeccable last year and double impeccable this year. But you wonder if he was rushed to the majors? Heck, he spent five years in the minors, so I doubt that it was a Rush Job. Since you typed your Cozart Codicile, he has hit safely in six of his last seven games (8-28, .286) with five RBI. So let's permit him to percolate a little bit before we throwing him into boiling water.
From Casey:  Hi Hal.  My question is about why you don't see the Reds or other major league teams use the suicide squeeze play more often with men on third base?  I can't remember the last time I saw it done in a major league game.
CASEY: That's exactly why you haven't seen it. It is as rare as a Brandon Phillips frown. It isn't easy to pull off. A pitcher can easily see a runner breaking for home when he winds up and throw a pitch-out. And when a suicide squeeze is possible, a lot of pitchers go into a stretch. That makes it nearly impossible for a runner on third to break for home early, wiping out the suicide aspect. It is a pretty play. It is fun to watch. But executing it is just what the term indicates — it can be suicide.
From Joe B:  Old friend, I wondered if you could clarify something from a recent game on MLB.  There was a play involving a player trapped in a rundown and contact was made between the runner and a fielder.  Interference was called, I thought, but then it was ruled as "obstruction".  Can you explain what the difference is, if any?
JOE B.: Lots of difference, depending on the umpire. That's a joke. It should be the same for all umpires, but from what we've seen from the arbiters in the last week or so, who knows what is what. The umpires certainly don't. As for the difference between obstruction and interference we don't have the time or the cyberspace to go into all the nuances of both. Suggestion. Google baseball interference and baseball obstruction and then be prepared to have your head swimming like Mark Spitz. Then you'll watch a game and an umpire will call them completely differently.

From Mike in Sidney:  Hal, is David Freese, the Cardinals third baseman, any relation to Gene Freese (pictured on front page), the former third baseman of the Reds on the 1961 pennant winning team?
MIKE: No relationship whatsoever, other than both played third base and both spell their last names the same. No blood relationship. Freese did utter one of my all-time favorite quotes after the 1961 World Series in which the New York Yankees  beat the Cincinnati Reds, four games to one. A New York writer asked Freese if he thought the '61 Yankees were on of the best teams ever. Freese looked up at the writer and said, every-so-slowly: "Screw the Yankees, screw New York and screw Babe Ruth." The writer said, "Thank you, Mr. Freese," and slinked away.
From Brent in Catlettsburg, Ky.:   I recently saw a feature on TV about the Louisville Slugger Company, and the shortage of ash wood for ball bats.  Any chance that professional baseball will someday use aluminum or synthetic bats, like the high school and college teams do?  Thanks.
BRENT: I don't think it will ever happen. The shortage of wooden bats is for the bats sold for public consumption. There is always good wood for the major-league bats. I see a Lousville Slugger representative bring a player a dozen bats and the player will pick out one or two and give the others back as not satisfactory. Aluminum bats, even the tamped-down style, are too dangerous for use by professional hitters. It is dangerous enough these days to be a pitcher or third baseman or first baseman with wooden bats. The way the ball jumps off aluminum bats, well, MLB might have to beg, bribe and threaten players to go on the field if the other team used aluminum bats.
From Doug in Wheelersburg:  Hal, what were the circumstances leading to Don Gullett leaving the Reds and signing with the Yankees after the '76 season?  And to your knowledge, did he ever regret leaving Cincinnati?
DOUG: The circumstances  can be described with one five-letter words: m-o-n-e-y. Gullett was a free agent and the New York Yankees came calling. It was free agency's infancy and the Reds, under Bob Howsam and Dick Wagner, were adamantly opposed to free agency. They refused to sign them, even though they lost Gullett, Pete Rose, Joe Morgan and Ken Griffey Jr. to free agency. Gullett's agent was one of the game's first, and a visionary named Jerry Kapstein. Gullett took his advice to take the money and run. To my knowledge, Gullett never regretted it. Shortly after he left he tore his rotator cuff and was finished. There was no such thing as Tommy John surgery at the time. Had there been, Gullett would have been back within a year and probably won enough games to make the Hall of Fame. He was that good.
Note:  If you have a question for Hal feel free to email it to Press Pros…sonny@pressprosmagazine.com.  You will get an answer!