A five-tool player with already the respect of the best players in baseball at the time of his trade, Shin-Soo Choo now has the respect of the best players in the Reds' clubhouse.
When fans are asked who is the best player wearing a Cincinnati Reds uniform, it is seemingly a slam-dunk question, a toss-up question until the tougher ones are asked.
"Joey Votto," is the quick answer.
The man himself, Joey Votto, has a different answer.
"Shin-Soo Choo," he says. "I'll be chasing him my entire career. He is the type of player who challenges me. I'm very, very competitive. So when one of my teammates is playing better than me, it's great to have some competition. He challenges me to see if I can outwork him and outplay him."
A few weeks ago Votto asked Choo if he had ever been to a dog track. Choo said no.
"I told Choo, 'You are my rabbit.' And he said, 'What do you mean?' And I said, 'There is a rabbit out in front of the dogs and they can never catch it. You are going to be my rabbit. I might not catch you but I'm going to be chasing you like hell.'"
Votto asked Choo the Korean word for rabbit and he said, "Tokki." So Votto said, "You are my little tokki."
It has evolved to the point where when one of them does something good, they put their hands atop their hands, simulating rabbit ears, and wave them at each other.
Choo laughed when asked about it and said, "Oh yeah, Joey is the Big Tokki, Jay Bruce is the Medium Tokki and I'm the Little Tokki.
Votto calls Choo almost the best player he has ever played with. Almost.
"He is not quite Scott Rolen, as far as an overall player, but he is not far off from being the best overall player I've ever played with. I've played with a lot of great players, Brandon Phillips included, and Scott is the best, a Hall of Famer eventually. And Choo is up there, too."
Without drawing a second breath, Votto said, "Choo is a good guy, very talented. He is out of position right now, but if you put him in right field he becomes an even better player. It is an honor to play with him and it was an extremely smart move to get him."
So is he what Votto expected when the trade was made?
"More," said Votto. "He is more. From afar you play against guys and baseball is a game of failure, so you see a lot of failure. When you work with a guy on a daily basis you get to see his talents and overall ability and Choo is much more than I ever expected."
Choo was extremely apprehensive about moving from right field, where he played in Cleveland, to playing center field and he gets better as the season progresses.
"I still work," he said. "My personality is that I grew up thinking you are never good enough. Never. Baseball is always about getting better.
"I knew right from high school that I wanted to play baseball in the United States and knew I had to be as good as I can," he said. "That made a lot of stress for myself, put a lot of pressure on myself. That's why I'm still working, still learning center field. I ask other good outfielders a lot of questions like, 'How do you go on your first step, how to make better defensive plays. I'm much more comfortable now because it was very uncomfortable in spring training. I worried about making mistakes.
"I already made a huge mistake, dropping two flys ball early this season against the Cardinals that cost us a game," he said. "But I learned from that. I dropped balls a couple times, but that made me more comfortable."
Since that early-April day, Choo has made no more errors.
The fans in Cincinnati have adopted Choo to nearly cult hero status, calling out 'Chooooo' after everything he does.
"I appreciate the fans," he said. "I've only played two months in Cincinnati and they call my name, really like me. I came from a different country and I'm living my dream, to play with real good players in the United States."
And he loves his team and teammates as much as they like him.
"I like this team a lot," he said. "I have good teammates who accept me. A lot of talent on this team, of course. And good guys.
"Sometimes you look around and see players with a lot of talent who make money and get lazy with their guaranteed contracts. You don't see that here, not from Joey Votto and Brandon Phillips and Jay Bruce. They're star players and still study the game, still learn, still try to get better."
Well, Votto knows. Chasing a tokki can be a daunting situation, but Votto says he couldn't find a better rabbit to chase than Shin-Soo Choo.
A procession of six Asian media people paraded through the Reds clubhouse, headed for Shin-Soo Choo's locker and Brandon Phillips shouted, "Look, a Choo-Choo train. There goes the Choo-Choo train.
Choo is, indeed, a cult hero in his native South Korea and hardly a day goes by that he isn't standing in front of his locker conducting interviews in Korean.
And he is fast becoming a cult hero in Cincinnati, where fans chant, "Choooooooo, Choooooooo" whenever the Reds center fielder does something positive, which usually is two or three times a game as the team's leadoff hitter.
One person who is thankful to see Choo in a Reds uniform instead of last year's Cleveland Indians uniform is Bronson Arroyo. During Reds-Indians inter-league games Choo chewed on Arroyo like a dog on liver treat.
"He talked to me about that during spring training," Choo said. "He said he was happy to see me in his uniform. That's baseball, though. There are pitchers who get me all the time and pitchers who I get all the time."
A surprising thing about Choo is that he is a conventional-style American-type hitter. Many Asians, like Ichiro Suzuki, are slap hitters — are almost on the run toward first base when they swing. Or they have a high front leg lift before their swing.
Choo said he never was slap-and-run, but he did have the high leg kick when he played in Korea.
"When I came to the States (2001 with the Seattle Mariners) I had the high leg kick," he said. "But in the minors I saw that the fastballs were not only 95 to 100 miles an your, they had a lot of movement. And they threw a lot of change-ups. It threw my timing off so I had to change. I was only 18 in the minors so I eventually changed my style to more like American style."
Choo said most Japanese players who come to America go right to the majors and it is too late to change their styles, but he had nearly five years in the minors to adjust.
The other amazing thing about Choo is that he mostly pitched in South Korea, throwing above 90 — and his lethal, accurate arm in the outfield reflects that.
When the Mariners signed him, Choo thought it was to be a pitcher. How wrong he was.
"I signed with Seattle, thinking it was to be a pitcher," said Choo. "But they surprised me and said, 'No more pitching. You are going to be a position player. You have a lot of talent — power, speed and we can make you an outfielder with a lot of work on defense.' They told me I had all five things (a five-tool player)."
The Mariners recognized that he had all the tools to be an every day player and Choo insisted his first couple of years he was not a good hitter in the minors.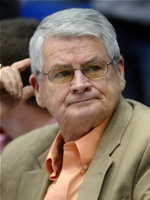 When the Mariners told him their grand plan, Choo said he shrugged his shoulders and said, "OK. I'll try a couple of years to see if it works. If it doesn't, I'll go back to pitching. That's easy for me."
He has never thrown a pitch on American soil.
He hit over .300 his first two years in the minors and said, "But I struck out all the time — usually about two times a game. A lot of strikeouts."
He still has his share of strikeouts, probably too many for a leadoff hitter (he mostly batted third in Cleveland), but he takes walks and does what he is supposed to do by getting on base
For the Reds, acquiring Choo was a good choice.