After months of asking and being turned down an interview with Indiana basketball coach Bob Knight turned out to be anything but conversation about basketball…one of the most complicated and intelligent men you'll ever meet!
CINCINNATI — The directions were very specific.
Arrive at Assembly Hall at 3:00. Proceed to the northwest entry to the gym. Wait at the red ropes and the gaited entrance. At 3:10 a team manager will be there to meet you. Do not be late. Coach Knight will meet with you at 3:15. You will have unlimited time with him during basketball practice. He will also meet with you the following morning promptly at 11 a.m.
After months of letters and phone calls, I had been granted an interview with Indiana University basketball coach Bobby Knight. The requests had started when I was a kid reporter in Madison, Indiana, and Columbus, Indiana. Back then calls to Knight were continually rebuffed, though his secretary, Mary Jo, had always been very kind.
I don't know why Knight finally granted me an interview. I always thought it was because I was the Reds beat writer for the Cincinnati Enquirer, and back then Knight was a fixture in the press box. It didn't matter. I had the interview, as I had promised my editor I would land.
When the call came from Knight's office, the paper cut me loose. "Take all the time you need," Greg Noble, my editor, said.
I made the drive to Bloomington, Indiana, across the treacherous turns of Highway 42 and arrived around noon. I checked into a hotel and made my way to Assembly Hall by two o'clock in the afternoon, well ahead of schedule. There was no way I was going to be late. I knew Knight well enough to know that if I didn't meet his expectations, the interview would be gone.
As I walked down the halls of the building, my emotions were mixed. I wanted this interview, but I was troubled by the fact that I was bending to his demands. I have never been good about dealing with authoritative figures, and there were few more authoritative than Robert Montgomery Knight, who honed his coaching skills at West Point.
At precisely 3:10, I was poised at the northwest entrance to Assembly Hall behind the red ropes of the gaited entrance. To my right, there was a sign. It said: "Practice in progress. No admittance."
Five minutes later, on the dot, a young man walked up the tunnel. "Are you Mr. Hoard, from Cincinnati," he said. "Follow me. Coach Knight is expecting you."
Assembly Hall was brilliantly lit. The players were hard at work on the floor. Knight was goading and chiding the players from the sidelines. His assistants: Ron Felling, Royce Waltman and Joby Wright stood on the court observing. The players were Steve Alford, Ricky Calloway, Dean Garrett, Brian Sloan and Keith Smart, a group on their way to another national championship.
The president of the university, Dr. John Ryan, was seated in a metal chair at courtside. I was directed to a chair next to Dr. Ryan. "Welcome," he said. "I understand you are from Cincinnati and that you cover the Reds."
Sneakers squeaked on the court. Knight railed. "No! Damn it, no. Christ, do you not listen? You make me sick. Do it again. We're going to do it over and over again until you get it right. Get it right or we will be here all night."
"So," Dr. Ryan said, "are the Reds going to get it done this year, or are we going to have another disappointing season?"
I mentioned the lack of pitching. Dr. Ryan, a small handsome, likeable man, said: "It's always about pitching."
Just then, Knight drew assistant coaches Feeling and Wright next to him. Together they walked closer to courtside.
"They're tired," Knight said. "They need a break. They need to rest and study. I'm gonna run 'em. Start one more drill."
The assistants nodded.
Two minutes into the drill, Knight went off.  "For God sakes, I have seen enough. Get the hell out of my sight. You embarrass me. You embarrass this school. Get the hell out of here. I'm tired of this crap."
Dr. Ryan sat beside me smiling. "He knows his team," he said. "People say what they will but he knows his team."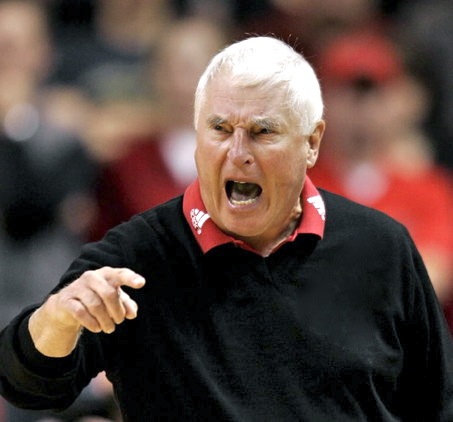 Knight is a big man, 6-foot-5 or so, 200-some pounds, and he walked our way. He sat down in a chair beside me. "So, tell me. What do you think of Eric Davis," he asked. "Don't give me stats. You travel with the team. Tell me about him."
I gave him my opinion. Then, he asked about Barry Larkin, Mario Soto and Tom Browning.
Dr. Ryan laughed. "You came here for an interview and you are being interviewed. That's the way it goes," he said, "with my friend."
After 45 minutes I had not been able to ask a single question about Indiana basketball or Knight's methods. But in a gap in the conversation, I began to ease out a question. "This is hardly one of your best teams," I said, "but do you think you can make a run in the tournament?"
Knight said nothing for a moment. Then, with a face as emotionless as stone, he said: "I always think we have a chance. It doesn't matter that we don't have a star player.  Everyone thinks that what separates good teams from bad ones is having a star player. The public doesn't understand. Nothing is farther from the truth.
"Now," he said, "I have a question. Want to get a milkshake? There is a place not far from here, great shakes. You look like a chocolate man to me."
We climbed in his Chevy, a very modest vehicle, and drove to a soda shop. He had a strawberry shake. I had a chocolate shake. He signed autographs and talked with fans. He was warm and thoroughly engaging with everyone who approached him, no matter their walk of life. He held no prejudice.
We talked a little basketball but not much. He preferred to speak about people and personal relationships, finding an understanding in what motivated people. He talked about psychology and Greek mythology and history.
That night, I went back to the hotel and I tried to make sense of my notes. What story did I have? The only story I had was that I believed I had just spent time with one of the most intelligent and complicated men I had ever met.
He was profane. He was articulate.
The next morning, as appointed, I arrived at his office at 10:30 for our scheduled 11 o'clock meeting. He came into the office around 11:20 and walked by me without saying a word. He went into his office, made a phone call or two and then walked back out in the waiting room.
"What the hell?" he said. "Are you finally ready to go? Damn, I'm tired of waiting. I'm taking you to lunch."
We drove to the south side of Bloomington to a diner, a blue-plate special kind of place, where the waitresses wore pink aprons and red lipstick, and the cash register was old style with the numbers that popped up and the cash tray that jangled along with the jukebox.
We had meatloaf and mashed potatoes, green beans, white bread with butter, applesauce and sweet tea. The place was filled with construction workers, men with worn and hardened hands, women with lines in their face, beauty and stories lying in every line.
"I like this place," Knight said.
We drove back to Assembly Hall, and all the while I thought, "We haven't really talked basketball. What the hell am I gonna write?"
Knight pulled the car up in the lot at Assembly Hall. "So," he said, "back to Cincinnati?"
"I think I'll hang around a while, talk to some other folks," I said.
We shook hands in the parking lot and I thanked him for his time.
"I want to tell you something," Knight said.
"What's that?"
"You have a rare quality," he said, his eyes bearing down on me. "You are more interested in listening than talking. Do yourself a favor. Never lose that quality. These days it's damned rare."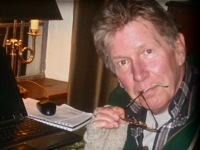 Bob Knight, always teaching, always coaching, always making demands of himself and others.
As I turned to walk away, he barked: "Hey, one other thing."
"Yeah," I said, turning. "I'm listening."
He smiled. Bob Knight doesn't smile much.
"There's a big damn difference," he said, "in hearing something and listening to what someone says. See ya in Cincinnati."
With that, he waved and walked away. Bob Knight always teaching, always coaching – whether you like it or not.