On the eve of football two-a-days, and that season about which American culture is anchored, I remain convinced that the action on the field is that which makes young boys better adults, because they love what they're doing…while the action in the stands is sometimes that of adults acting like young boys.
CINCINNATI—It's here. It's on us, high school football. Kids are starting the tortuous ritual of two-a-days. They deal with dust, heat, sweat and fatigue. They battle one another. They battle pain, injury and expectations – from coaches, parents and friends. They push their limits; dream their dreams, dreams that will – for most – remain dreams, hopes that are never realized.
And all this before the games even begin, when Friday night skies are lit by the bright lights of hope and anticipation, and neighborhoods, entire communities, lean and pivot on the prowess of schoolboys in the local colors.
It's a vivid and long-enduring part of Americana, but not always a proud one.
In my lifetime, I have witnessed more vitriol, more bad behavior at high school games than in the any sports arena outside the houses of NFL teams, where the fervor of fans is fueled by beer, booze and the bellicose bravado that comes with too much time bending elbows.
At high school games, it's about blood and pride. Those are sons and grandsons out there on those green fields; nephews and neighbors. They are kids who carry community pride under their shoulder pads. They are kids who beat out sons, grandsons, nephews and neighbors for a position. Emotions are raw, win or lose – but especially when the local team is losing.
(I happened to have played in the only high school basketball game in Indiana history that was declared final before the final horn. The game was stopped with 18 seconds to play because of an enormous fight in the stands. It was between the parents.)
Over the years while covering or attending games, I've seen fathers cheer and fathers fume. I have seen fathers fight and mothers join in the fracas. I have seen coaches subjected to unreasonable criticism. Over they years, I have asked coaches, many of them from power-house programs in the Cincinnati area: Moeller, Princeton, Elder, St. Xavier: "How do you put up with it? Why do you put up with it?"
They have always answered the same way, with a shrug and an uneasy smile, as if they were mildly embarrassed. "It's regrettable," they said. "But, you live with it. It's part of the job."
Princeton legend Pat Mancuso went a bit further. He laughed when I asked the question. "Surely you know every dad, every granddad, every uncle and mother believes they are a better coach than me," he said. "But there are exceptions."
He paused and took a sip of Coke. "The exceptions," he said, "are the parents and families of the kids who are truly good. For some reason, they don't say much."
I must admit there was a time when I said too much and placed too much value on my sons' performance on the football field. Identical twins, they were big and strong for their age. They were standout players in elementary school. Their coaches predicted big things. We lived in an area where enormous prestige was placed on playing for the high school football team, a winner of several state titles.
For a long while, the boys continued to excel, and for too long I found myself caught up in the emotion of it all. They were the twin defensive tackles; later, the twin defensive ends, but for all the attention they received I came to realize one thing no one else did and something, because of their desire to please me and their coaches, they were unwilling to say.
Finally, when they were sophomores, we were sitting at the dinner table one night and I ask them: "Boys, do you love football? Do you even like it?"
There was a long pause. Then, John spoke. "No," he said. "I haven't liked it for years. I've played, Dad, because you wanted me to."
There was another long pause. Then, Joe spoke. "I feel the same way," he said. "We didn't want to disappoint you."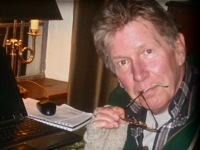 My heart was broken. Not for me, but for them, that they had spent all this time trying to live up to my expectations. "What do you want to do?" I said.
"We want to play tennis, basketball and baseball," John said.
"Is that alright?" Joe said.
"Of course, boys," I said. "Play what you want to play and what you enjoy. If you don't love it, you will never excel at anything. In a lot of ways, you have to play for yourself and no one else."
My boys went to college on a tennis scholarship. I will always believe they could have been grand football players, but they didn't love the sport.
In football, you must love the game and everything about what's inside the game: the combat, the pain, the contact, the sacrifice, the dirt and blood and the sweat in your eyes; the exaltation of success.
This is what I know about football. Above all the games in the world, one must have a taste for this game and the guts to admit when you don't.