The Reds' hall of fame catcher taught me that sometimes it's not how you ask, but what you ask…that is, if you really want to get the story.  Ask the next question if you really want to know!

It was Saturday night. My fiancé and I had asked friends over for a quiet evening. Snacks on the table, the bar was set, the fridge was filled and Van Morrison was on the stereo.
The evening was all about relaxation.
There was a doctor in the house, a lawyer, a model, a nurse and two guys who ran businesses, but no one was talking about work.
Then, the phone rang. My fiancé answered. "Yes," she said, her brow furrowing. "Sure, he's here. Hang on." She extended the phone to me and went to the stereo and turned down the music. She looked around the room, "Please, quiet," she said. "It's business, I think."
The party quietly freshened their drinks.
"Greg?"
"Yes," I said.
"Hey, I've got a scoop for you. It's huge!"
I recognized the voice. It was someone who was very close to Reds catcher Johnny Bench, a guy who made his business to buddy-up to sports stars. Over the past three years, we had become well acquainted.
"Here's the deal," he said. He sounded like a spy, like a character straight out of Film Noire. His voice dripped with Phillip Marlowe. He sounded like he was wearing a fedora and a trench coat. "Johnny Bench is going to retire and get married. You can't tell anyone I told you, but it's true, honest to God."
"Wait, why are you telling me? How do you know this?"
"I thought you would want to know. I just had dinner with him. That's when he told me. Besides, he likes you."
"Did he tell you to call me?"
He hesitated for a moment. "Well, no. I just thought you would be the best person to tell. Can you get it in tomorrow morning's paper?"
I imagined him calling from a pay phone on an isolated street. It was that kind of call, filled with pitfalls.
"No," I said. " I got to talk to him. I appreciate the tip, but I just can't go on your word. It's not enough. You got his number? I'll call him right now."
"Sure," he said, "but you are gonna miss out."
He rattled off the numbers. The party had moved to the deck out back, leaving me to work. I dialed the numbers over and over. Bench never answered. I left messages. There was no call back.
The next morning, I arrived at Riverfront Stadium early. It was Sunday, a day game. During batting practice I hovered around talking with the manager, John McNamara, and the regular players, mostly Davey Concepcion. There was no hint of anything out of the ordinary. All the while, I kept my eyes on Bench.
When he had finished his last round in the batting cage, I approached him, making sure no else was around. "John, I need to talk to you about something," I said.
"Sure," he said. "What's up?"
He had three bats in his hands and an open look on his face. "I got a call last night," I said. "Guy said you are retiring and getting married."
At first, he said nothing, just smiled at me. Then, he laughed. "Getting married and retiring?" he said. "Are you kidding? No!  You got some bad information."
Then, he turned and walked to the dugout and up the tunnel to the clubhouse. Something about his answer and his demeanor left me uncomfortable, but I wasn't sure why.
The next day, the Red announced that Johnny Bench, Future Hall of Famer, was retiring.
That night at the ballpark, I waited, once again, until we could have a private conversation. "You lied to me," I said. "I had the story and you shook me off."
He stood there with this peaceful look on his face. "No," he said. "I didn't lie to you. I have never lied to you. You ask me, 'Are you retiring and getting married.' I said, 'No. Getting married? Are you kidding?' That's what I said."
He poked a finger in my chest. "You assumed too much. You didn't ask the next question. When I said, 'Getting married? No!' You should have asked, 'Are you retiring?' Then, you would have had me. You were too easy."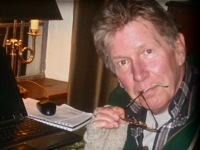 That was 1983, Bench's last season in baseball.
In college and graduate school I studied under great people, wonderful professors and mentor's like Peter Ross Range, Time magazine bureau chief in Saigon during the Viet Nam war. But my greatest and best journalistic lesson came from John Bench: ask the next question and the next and the next.
The lesson served me well.
Years later, and led by Dave Parker, the Reds players called me Columbo, a reference to a TV character made famous by Peter Falk in the 1980s. He wore a ratty, rumpled raincoat, sported a chewed down cigar and had an annoying habit of saying, "Excuse me, just one more thing."
Many of my teachers had multiple doctorates from prestigious universities: Princeton, Yale, Harvard, Duke, Brandeis and the University of Chicago.
My best teacher was this ballplayer from Binger, Oklahoma.

Note:  Read more of Greg Hoard on his own website…www.greghoard.com