To know him was to love him…unless you had to interview him.  My one and only (un)forgettable moment with the one and only Harry Caray.
CINCINNATI — Television is an odd occupation. They paint your face, fluff your hair, stick things in your ear so you hear producers, producers who talk to you as you are trying to speak or listen to someone you are interviewing.
No matter what you are doing you hear prompts.
Slow down.
Pick it up.
Ask him this.
Ask him that.
Thirty seconds.
Ten seconds.
Wrap it up.
That's a hard wrap.
Hard wrap, now!
Overall, it's not a pleasant business. While it purports to be about communication and information, it is not. It is an enterprise aimed at a product that lures advertising dollars. Whether the product is good and worthy is inconsequential to executives. In the trade, they call it "numbers," and that's the only thing that counts, ratings, which amounts to dollars. If arrive at "numbers," the end, as Josef Stalin advocated, justifies the means.
Consequently, truth, reality and quality hold little value. If a little trickery or deceit, leads to better numbers – that works and it's okay. Once, leading up to a ratings period, my station ran a series of melodramatic promotions: "There may be something in your back yard that can kill your child…Tune in…blah, blah, blah…to find out."
When the story ran, it was about swing-sets, kids falling off swing sets or chomping on the wood of the seats that might have lead paint.
I remember sitting in the studio that night and being embarrassed. I played on swing sets. I watched kids playing on swing sets. I pushed my own kids on swing sets. Sure, I saw some kids fall off the swings. I saw some get hit in the back of the head by swings. Hell, I think it happened to me, but I never saw a kid chewing on the seat of a swing set, never saw a kid that hungry or demented.
That was the day I decided TV was a cesspool and I wanted out. Back then, and today, they throw drivel at the public. Let me ask you this. When was the last time you heard something on local TV you had not already heard?

Still, there are moments that occur on "live" TV, that stand apart, those unanticipated events that can't be controlled, which make local TV worth watching.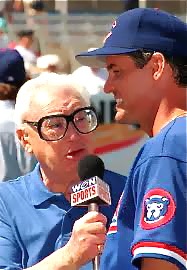 In the early 1990's, I was working for the NBC affiliate in Cincinnati. Famed Cubs radio broadcaster Harry Caray had announced that the season would be his last. Harry was a legend, loved by people around the country. The Cubs were coming to town and I requested an interview for our 5:30 segment, which was granted. They had only one question, "What time do you want him there?"
"Our hit," I said, speaking TV lingo, "is 5:20."
"Fine, we'll have him there at 5:15."
From my newspaper days, I knew the Cubs' public relations folks well and trusted them.
So, the day arrived and I'm there in TV bib and tucker, powder on my face, hair spray, pressed shirt, creased slacks, dark blazer and Armani tie that I couldn't really afford.
I've got something stuck in my ear. I've got wires running here and there. I've got a cameraman telling me to wipe my brow, telling me I'm sweating. It's July. It's 90 degrees. I'm standing on Astroturf at Riverfront Stadium. It's blazing. Of course, I'm sweating, everybody is sweating.
The producer says in my ear: "Where's Harry? We are two minutes away."
I say: "Crap. Haven't seen him."
Producer says: "Okay, we might be screwed. You may have to vamp. One minute."
At that point, I see Harry emerge from the Cubs' dugout. He is walking slowly. Fans are calling to him. He is waving to them. He is stopping and signing autographs.
Producer says: "Thirty seconds to your hit. Do you have this together or not?"
With 15 seconds to go, Harry arrives at my side. I hand him a microphone.
Then the talk in my ear begins: "Tens seconds to you…"
I hear the anchors tossing to me. I try to smile and be comfortable, natural.
Then Harry says, "What is your name?"
In my ear, the producer says, "Three seconds. Good luck."
I turn to Harry and say, "Greg."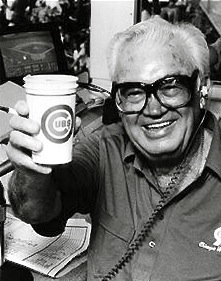 Producer says, "You're on."
Harry says, on live TV: "I know that, but what's your last name?"
I say; "Hoard."
Harry says, "Hoard? Geezus, that's unfortunate."
In my ear, I hear, "Damn. Save this!"
So I turn to Harry and say, "After all these years. What are your greatest memories?"
The producer says in my ear, "You have two minutes."
Harry goes on. He talks about Stan Musial, Lou Brock, Bob Gibson. He talks about Willie Mays and Roberto Clemente, Willie Stargell. He rambles. I can't get a question in, but that's okay. Harry's all over the place.
The producer is going nuts. "You're running over, he yells in my ear. "Wrap.
"Hard wrap."
So, I turn to Caray and say, "Sorry, Harry. We have to wrap it up."
Harry smiles through those big spectacles and says, "I don't remember what you ask me, but if that is what you asked me, that is my answer."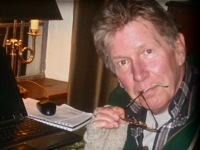 I couldn't help but laugh. We had busted our window by a full minute.
When I got back to the office, they cut me up pretty good. They said I wasn't professional, wasn't a team player. I said, "But that was good TV, real TV. Tell me, how do you cut off Harry Carey? What did you want to do, another weather report, another traffic report?"
That was the day I decided local TV wasn't for me. Regrettably, I stuck with it for another 12 or 13 years. Sad to say, it was all about the checks. There were good times along the way and I made some very good friends.
But in the end, I decided to go back to a field where there are rarely time limits on a great conversation.
And still I ask, how do you tell a legend like Harry Caray, "We're done here?"
You don't, and certainly not for another weather report.