As a group they accomplished so much.  And yet, the frailties of the human psyche are still evident for one member of the Big Red Machine perhaps less regarded than the others.
Cincinnati – He wanted to meet at Mike Fink's, the old paddle wheeler that sat on the banks of the Ohio River in Covington, Kentucky. It was his favorite restaurant. He loved the raw bar there. "And, I always liked the view," he said. "It always made me feel better, no matter what."
This night, Davey Concepcion, the shortstop of the 1970's, the man who gave new definition to the position, needed to feel better. He needed, above all else, an attentive ear, someone who would understand.
He was in town for a reunion of the "Big Red Machine," the team that had forged six division titles, four pennants and back-to-back World Championships, 1975 and 1976. Everyone was there: Rose, Bench, Perez, Morgan, Geronimo, Griffey, Foster, Concepcion and manager Sparky Anderson.
There were autograph sessions, speeches, round-table discussions, many jokes and more stories, all delivered to throngs of fans still clinging to the past, all willing to pay a handsome price to revel in the presence and memory of aging heroes; rolling back to a time when the Reds carved their place among the best teams of all time.
The fans all remembered when it was hard to get a ticket to a Reds game, especially when the Dodgers were in town and the entire Midwest seemed to descend on Riverfront Stadium, when the place was a beckoning beacon.
Now paled in comparison to then.
Then was better than now.
The Reds had a new stadium, Great American Ball Park. Riverfront Stadium had been wrecked. A new era had been promised, but the team was knocking around, skinning their knees and coming up empty at most turns. It was a hollow time. It was a perfect time for a gathering of that special team, "The Big Red Machine."

When I arrived at the restaurant, Davey Concepcion was already elbow-deep in the raw bar: king crab legs, oysters, jumbo shrimp the length of a butter knife, breads and butter, and a scotch on the side.
As I approached the table, he stood, wiping his hands on a napkin. "I couldn't wait," he said, smiling broadly. "I was starving. Sit! Sit, my friend, it is good to see you. Como estas? Have something to eat. Give me a hug."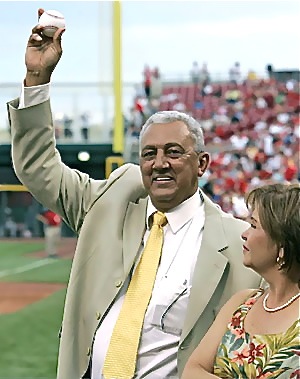 Davey was forever friendly and warm, never forgetting a friend, rarely forgiving an enemy. "Que pasa?" I said.
"What's happening?" he said, shrugging his shoulders, returning to his crab legs. "You know, the same old thing, the same."
It was clear he was troubled, but I wasn't sure why. "So, how was the reunion?" I asked.
"You know, good," he said, "but always the same, just the same." He dabbed his chin with his napkin and placed it on the table. "I'm getting fat. Look at me. I love to eat. I remember when there was nothing to eat."
"The same? What do you mean?" He sipped at his scotch. His eyes turned to the river, where the lambent light from the city danced and toyed with the rippling current.
"You know, I know you know," he said. "It is always good to see everyone: Pete, Bench, Morgan, especially 'Doggie', like a brother to me, all the guys – Griffey, Geronimo, Foster, Sparky, but always they joke me. They sh__t on me. They always sh__t on Davey. It gets old. It is old."
It was true. Davey was the object of jokes. In part, it was because he was such an easy target. Davey was an innocent, childlike in so many ways, gifted in so many others. But he was no match for the wit of Rose, Bench or Morgan, who pinned him at every opportunity, and the others often followed their lead.
Back then a major league clubhouse wasn't far from Lord of The Flies.
Of course, Davey didn't always help him self. Once, mired in a hitting slump, he climbed into an industrial dryer in the visitor's clubhouse at Wrigley Field, saying it would change his luck. Someone closed the door, hit the button and put Davey on the gentle cycle. He came out toasty, dizzy and got a couple of hits that day.
Though he was an integral part in the Big Red Machine, a five-time Gold Glove winner, nine times an All-Star, he was regarded, he believed, as a fringe figure, and it tore away at him.
"The fans," he said, "they talk about the 'Big Four', always talk about the 'Big Four': Bench, Rose, Morgan and Perez. They were the 'Big Four', but you know, the 'Big Four' would not have been what they were without the rest of us – without me and Griffey, Foster and Geronimo. We were part of it, too."
Dinner was over.
We walked up the planks to the parking lot. In some ways, I felt sorry for Davey. He had achieved so much and there was still something missing.
In the darkness of the parking lot, he looked back across the river toward Great American Ball Park. The lights were bright. The mood was low. "They are losing again," he said. "I can tell by the crowd."
He stood there for a moment, completely silent, like a man looking into his past, remembering it but incapable of feeling it, something lost and gone forever.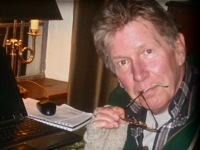 "Here's what gets me," he said. "We did a lot of things over there, big things, and there is nothing. It is all gone. Riverfront is gone. There is no stone. How do you say it? No monument, no nothing. That isn't right. There should be something."
He stood there quietly, a lonely figure. The only sound was the river lapping against the dock
"What the hell?" he said. "Most will remember, yes?"
I nodded. "Of course," I said.
He shook my hand and grabbed me about the shoulders. "I have an early flight tomorrow," he said. "Adios y bueno suerte mi amigo."
"Davey," I said. "It's all good."
He climbed in his rental car and smiled. "You think?" he said. Then, he pulled away.