Who's really surprised that Chad Johnson's career flamed out as it did?  The perfect example of showing your kids how not to be an adult…or a professional!
CINCINNATI—Didn't you see this coming and years ago?
Chad Johnson sliding down the slope, arrested for domestic violence, cut by the Dolphins, dropped from a reality show,  divorced after weeks of marriage, drifting, wondering what, if anything, is left for him. If, over his career and from the first time he showed up in Bengals training camp, you watched him with a critical eye, if you listened to him with an alert ear, there was an indication of what was to come.
It wasn't good. Now, it's come to pass.
Make no mistake, Chad Johnson is a talented football player and has had his successes. He appears to be a nice young man. He holds most Bengals receiving records. But he was always misdirected, foolish in many ways.
Being an NFL star was never enough for him. He wanted to stand out. He wanted to develop a particular brand, some mixture of hip-hop, rap star and sparkling athlete. His tongue was too loose. His play was undisciplined. His behavior and his performance was unpredictable and inconsistent. He continually separated himself from the team, posturing, preening; constantly and deftly drawing attention to his performance, to himself. It was always about him instead of how the team performed. In his time here, he made himself bigger than the team, and seldom, if ever, works
In short, he was selfish and self-indulgent, narcissistic, and now it catches up with him. I wish no man ill will. I hope that Chad lands a new job, and that he grows up, and becomes a man at 35. I hope that he re-invests his energies in his talents and realizes all he really has is football.
He promised such in an apology Tuesday, but he has made such professions before.
A time comes, in all our lives, when it is just time to shut up and play, work and go on. Chad's time has come or, is nearly gone. What's left for him is his decision, his action. What to do with life?
•••
Tell me this. Is there anything less indicative than pre-season NFL football? It tells us little because we see so little of those that will matter when the season truly starts.
Is there anything in sports that is less productive, and potentially more costly than pre-season football game? Take the Bengals, just as an example. In their first game, four players go down to injury: starting guard, Travelle Wharton, knee; Carlos Dunlap, top pass rusher, right knee sprain' Rey Maualuga, knee sprain; and Taylor Mays, head injury.
Is the cost too great? Shouldn't it end?
And then there is the frenzy, fueled mostly by ESPN, which has a vested interest in the NFL. Andrew Luck is phenomenal. Roberts Griffin, III, is glorious. Come on, now.
Pre-season games reveal little, and less that is truly important. As I've said before, let's just sit back and see.
•••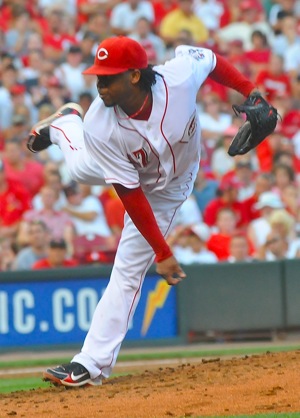 For a minute, let's consider the Cy Young Award in the National league. I was listening to a Reds' broadcast the other day and the topic of the Cy Young Award winner came up. They talked about the Reds' Johnny Cueto and R.A. Dickey, of the Mets. They talked about records and such, but the most intelligent comment on the topic came a few days later from Jayson Stark, senior baseball writer for ESPN. He mentioned Aroldis Chapman, his choice for the award.
I find myself agreeing with Stark.
Consider this: the Angels Jared Weaver is the solid favorite for the Cy Young Award in the American League. Weaver has pitched 138 innings (as of Aug. 14). His ERA is 2.22, record 15-2. Weaver had 106 strikeouts in 138 innings.
Chapman's ERA is 1.26. He has 28 saves, and in 57 innings, less than half of those in Weaver's book, he has 106 strikeouts.
Cy Young Award for a reliever?
In case you are wondering, the last were Eric Gagne in 2003 and Dennis Eckersley in 1992. The next may be coming up.