It is perhaps the most overused, and misused, word in sports and in our culture.  Some coaching thoughts on the value of loyalty, and lessons learned the hard as to its misuse!
Loyalty!  This is a tough word. The majority this day and age are actually disloyal.  And I can remember right after 9/11 that our country felt a sense of true loyalty.
Let me ask you a question? How long did that feeling really last? As a whole, not for long.
What is loyalty? Most people will describe loyalty as something like this, "I have my teammates back!"
Wait a second. If your teammate is doing something that might get in the way of our team or my individual dreams or goals, should I have his or her back? Absolutely not! We should teach our people to DO RIGHT instead of just saying "I've got his or her back." So, I feel this word is defined the wrong way. Here is what loyalty is.
THE TRUTH!
You show me somebody that makes an excuse and I will show you an underachiever right now.
Now, how many people want to be labeled as an underachiever? This is a tough word. Plain and simple, nobody wants to be labeled as an underachiever. Then why are so many people making excuses? They are making excuses because as leaders, parents, teachers, coaches, employers, we are allowing people to make excuses. We are allowing people to play "The Blame Game" – allowing people to blame things on other people or things. In every locker in our baseball locker room is a mirror. Next to each mirror are two words – NO EXCUSES. It is each and every person's responsibility to be able to look in the mirror and hold themselves accountable for their own decisions and actions.
Here is a great disloyalty story.
I was out recruiting and watching a high school game a few years back. I was there to watch the pitcher on one of the teams although you never know what you are going to see.
I was standing down the right field line when a parent asked me if I was Coach Vittorio. She then went about telling me about her son who was the starting third baseman on the team. This kid was a good player. She then spent about 20 minutes telling me how bad the team was and that the coach had no idea what he was doing and that he also was a terrible motivator. She then asked me, "Why are you not recruiting my son?"
I said, "Do you want to know why?" She said, "of course." I said, "What are you going to say about me when I am coaching your son?" As a college coach, we are asking for loyalty out of our players. This is a perfect example that they are not even getting it out of their own houses. I am telling you, this is the norm today. Everybody wants to blame things on other people.
Here is another disloyalty story.
I was out recruiting and watching a district championship high school game. I was standing at the top of these bleachers with about twelve fathers sitting right below me. It was the top of the first inning, one out, leadoff man on third base and the three hole hitter up. The score was tied 0-0.
Are you still with me? The three hole hitter strikes out looking. The four hole hitter flies out and the team does not score the run. The same exact scenario came up in the top of the sixth inning of a seven inning game. One out, leadoff man is on third base with the three hole hitter up. The score is tied 2-2. Are you still with me? The coach gives a squeeze bunt sign to the three hole hitter. He pushes through the squeeze bunt. The other team gets the guy on third in a rundown and tags him out. The three hole hitter flies out to center field. The team does not score the go ahead run, late in the game.
When the three hole hitter flies out, the fathers below me have the troops lined up. Animated, they are all questioning why the coach would have their three hole hitter bunt in that situation. One of them knew that I was a college coach and asked me for my opinion. This was the wrong question to ask me at the time.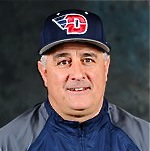 I asked them if there were any leaders in the "father" group. They became quiet. I told them they were all followers. Which one of you guys are going to say, "Our three hole hitter was asked to do a job – squeeze bunt?" "He did not get his job done." " Fellas, if we do not get our jobs done then we have a chance to be fired." "Our three hole hitter is lucky that he did not get fired and is still playing third base for us."
You see the norm? Making excuses for our people and blaming things on other people. It does not cut it. That's the reality of our day…the reality of loyalty!