Our 2015 series on learning baseball from those who teach is best continues with this week's feature on a young man who taught the Dayton Flyers more about life than they could ever teach him about baseball.
By Tony Vittorio
I am proud and honored to be the baseball coach at The University of Dayton but, more importantly, I was humbled to be Cameron Neal's buddy and associated with the Neal Family.
I am also proud to be associated with The Friends of Jaclyn Organization led by Dennis Murphy. The Friends of Jaclyn Organization pairs children that have been diagnosed with brain tumors with athletic teams in the same area to try to enhance the quality of life for that child.  Forty members of our baseball team were supposed to enhance the quality of life for Cameron over the past four years. Well, it didn't take long at all to understand that, as we were trying to enhance one life, Cameron was enhancing our 40 of our lives. Why?
Cameron was Coachable:
In reality, in his fight with cancer, he did everything that was asked out of him. I know that many will read this and say, "WHAT"?  But if you look at his journey from being diagnosed with cancer on April 6, 2010 to his passing on September 14, 2015, he went through several surgeries, radiation and chemotherapy sessions;  and moves to Bloomington, Indiana, and Memphis, Tennessee, all within a short period of time. So he was coachable and he was coachable with a smile on his face.
Cameron was Competitive:
Cameron was a competitor. People who knew his story would agree with me, man did he battle! This was always noticeable after his treatments or surgeries. He would walk into our indoor facility, locker room, or on our field with passion, and, without him even knowing, he would definitely "own" the room or field.
When he traveled with us to our game at Ohio State two years ago, I can remember Cameron and me embracing in the dugout after the game and him saying, "We kicked the Buckeyes A**!"  He traveled back home on the bus with "that smile" on his face. And how about him competing with our players on the ping pong table and him yelling "Yeah Buddy!" when he hit a shot by you?
Cameron was Fun to be around:
I believe this was Cameron's best trait. He was really, really, really fun to be around. And in his last days there were several pictures surface on social media that really captured how fun Cameron really was. You talk about living, laughing, and loving? Well, Cam lived life to the fullest. He made you laugh and he laughed with you. And, I know each one of us in the Dayton program loved him. I am here He was a blast to be around.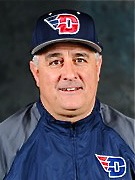 We had a medicine ball challenge for our players that was called the Cameron Neal Medicine Ball Challenge. Cameron kicked off the medicine ball challenge for our players with a letter. At the end of the letter Cameron wrote the following:
"I wish all of you the best as you compete in the Cameron Neal Medicine Ball Challenge. Again, my name is Cameron Neal and I will not quit. I expect all of you to give your best and not quit as well."
Cameron did not quit. It was an honor for the "Big Guy" upstairs to pull his card. As we grieve, it's more important for us to celebrate Cameron's life, because he "lived". Cameron loved all social gatherings. He would want us to all stay together and CELEBRATE his LIFE. We at the University of Dayton are all committed to keeping Cameron's spirit alive!
Tony Vittorio
Baseball Coach
University of Dayton