If you want to do something bad enough, there's only one way to do it.  You go after it, not just hard, but as aggressively as you can!
By Tony Vittorio
There is no substitute for hard work, that is, of course, unless it's a miracle. Outside in the belief of a few things, in reality, how many miracles are out there? The reality – very few. But why wait for a miracle to happen? Go out and get it!
Here is the problem. Most people, especially young people, think they are working hard, but they are not even coming close. There are way too many things going on in peoples life's for them to be able to work hard this day and age. Plus, people are holding other people's hands – especially the younger people – way too often for them to even have a chance to work hard. If you want to be a baseball player, you have to look like, walk like, talk like, smell like and WORK like a baseball player. Period, the end! Think about it. So many people want to be something and they look like it, walk like it, talk like it, smell like it, but they do not WORK to be it. And, I am talking about WORKING to be IT!
Here's an example.
A few years back, I had the unique opportunity to be part of a baseball missionary trip to the Dominican Republic. Well, it did not take long – from the airport to where we were staying – to look out the windows of our bus to realize that we have everything and they have nothing. Here is what our day consisted of.
6:00 am…Breakfast at the hotel
6:45 …am Prayer
7:00am…Depart for Villa
8:00 am…Baseball Clinic and Gospel
12 noon…Lunch
2:00 pm…Visit orphanage or leisure time
5:00pm…Dinner
7:00 pm…Fellowship
Before I attended the Dominican Republic, I heard all of the "sad" stories about the people and how it is a third world country, etc.  Bottom line – their kids are happier than our kids. Why? Because they actually play hard and work hard all day. Their kids could run circles around our kids. Their kids are in way better shape and have less body fat than most of our kids. They are actually in the mix and doing things.
Hence, from a baseball standpoint, the Dominican kids are taking our kids' jobs in the big leagues and deservedly so. Well deserved, because the Dominicans are getting after it. Their kids are happy and guess what? We are all in search of happiness. Why are they happy? Because they play hard and WORK hard!
Here is another example.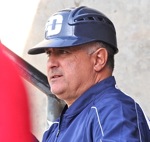 If you play baseball in China, your parents drop you off at the baseball park in the morning and do not pick you up from the ball park until the evening. Their people actually play and WORK at it. Hence, because they WORK at it, they are taking our kids' jobs in the big leagues.
By the way, their kids are happy as well and again, we are all in search of happiness. If you want something in your life, you have to go after it as aggressively as you can! I know that I am a baseball coach and that I am using baseball examples, but it doesn't take a rocket scientist to figure out that in any thing you do or want to be in life, if you want something bad enough, you go after it as AGGRESSIVELY as you can. The different word here is AGGRESSIVE. Too many people do not go after things AGGRESSIVE enough. Fun is doing something difficult well!
Until next time……..
Tony Vittorio
Baseball Coach
University of Dayton