Connor Hellyer hit nothing but net on the game winning three pointer, and Miami East survived a second half meltdown to clip Troy Christian at the Eagles Nest.
By Joe Neves
Troy – When is a defensive stop not a good thing?
When the possession arrow favors the opposition. Just ask the Troy Christian Eagles.
With the clock ticking down, and the Eagles clinging to a 49-47 lead over Miami East, the Eagles forced a held ball under the Vikings basket with 6 seconds remaining. The arrow favored the Vikings, however, and senior Connor Hellyer buried a three-pointer from the right corner with 2 seconds remaining to give the Vikings a 50-49 win.
"Ironic, isn't it," asked Eagles coach Ray Zawadzki after his team dropped its second straight to fall to 7-2. "We make the stop, and the arrow goes to them. If that arrow is pointing the other, way, it's a different team celebrating tonight."
Miami East coach Allen Mack talked about the game winning play.
"It was really our second option. Damien caught the in-bounds pass in a lot of traffic, and Hellyer curled to that corner after making the pass. Damien found him perfectly, and fortunately for us, Connor knocked it in."
Hellyer, a 6-1 senior who had only one other basket all night, had this view of the play.
"We went over it in the huddle. We drew it up just like it came out. I got a little hand-off and I hit it. We didn't have much time left, so we had to get a shot off. We had rebounders in place, but it went in."
Despite his struggles shooting the ball, Hellyer took the final shot with confidence, even with a hand in his face.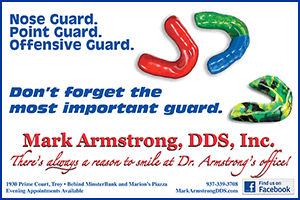 "There was a point at the beginning of the season where I missed four or five shots in a row and my teammates told me to just keep shooting. I just keep shooting, and that happens."
A standing room only crowd saw the Vikings score the game's first 6 points and eventually stretch the lead to 33-21 at halftime. Damien Mackesy scored 14 points for the Vikings in the half, and a swarming Miami East defense held Troy Christian scoring machine Grant Zawadzki to just 5 points.
"We played great in the first half," said Mack. "I think it took Troy Christian a while to adjust to the defense and limiting Zawadski to 5 points in the first half. Plus their other outside threat, Luke Dillahunt, got in foul trouble and didn't play much in the first half."
The second half was another story altogether. The Eagles forced 12 East turnovers after intermission, and Seth Wynne hit back to back threes to give the Eagles their first lead 49 seconds into the fourth quarter. Luke Dillahunt then drained a three to put the Eagles up four, but Troy Christian scored just three more points the rest of the night.
"I'm very proud of my kids," explained Zawadzki. "Any time you get down to an Allen Mack team and can come back and erase a double digit deficit, you have to be proud of your kids.  You know, we get back to back stops and give the kid (Hellyer) credit. He hit a great shot with a hand in his face."
Mack said the win was an important one for his team, especially coming off a loss.
"It was a big game because it was a chance for us to take a step forward and beat a really good basketball team, especially on their floor. It's a great accomplishment against a very well coached team."
For the night, Miami East was 18 of 33 from the floor for 55% compared to the Eagles 19 of 43 for 44%. The Vikings were 2 of 6 behind the arc, while the Eagles were 6 of 17. Miami East was 12 of 19 at the stripe for 63%, and the home team was just 5 of 8, also 63%. East had a 24-14 edge on the glass, including 6-2 on the offensive boards, and won despite 17 turnovers to 10 for the Eagles.
Mackesy finished with a game high 21 points for East, and AJ Hickman added 12. Dusty Poteet paced the Eagles with 14 while Grant Zawadzki finished with a season low 10.
The Eagles, who rallied from an 11 point deficit before losing in overtime to unbeaten Tri-Village, saw another comeback halted by Hellyer's heroics. Zawadzki said falling behind Is a concern.
"It's something we have to address. Obviously you would like to be ahead, but we are finding out about the character of our kids. The mission is not January, the mission is March and for us to do what we want to do in March, we have to have these bumps in the road that teach us so we can get better."
Things don't get easier for the Eagles, with Bethel and Franklin Monroe coming to the Eagles nest next week.
"We knew that this two week stretch was going to be a challenge," confirmed Zawadzki.  "We are finding out a lot about our kids, and we have found some area where we have to get better. By identifying our weaknesses and working on them, we are going to be a better basketball team."
Both coaches left the gym feeling good about their teams.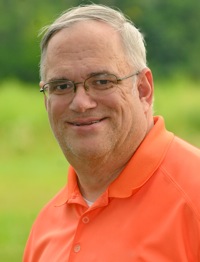 "I'm definitely happy with where we are," said Mack before heading for the bus. "I'd like to be undefeated, but we play the type of competition that you have to play to be successful later in the year. To be 8-1 is a good accomplishment for this team."
Zawadzki had a slightly different take on the question "Are you happy with where you are as a team?"
"I don't judge my kids by wins and losses. I judge my kids on some other characteristics that I won't talk about, but I like what I see.  We started late because of football, and I'm seeing us develop into what I do like."
There was much to like on this night. Great crowd, terrific atmosphere, and a game that was worth the hype…good to the last shot!
(Edited by Julie McMaken Wright)