Quarterback competition at Ohio State is between two accomplished players. … Barrett is looking to build on record-setting season … Arm strength much better, Meyer says.
COLUMBUS — J.T. Barrett has found himself in a spirited battle with Cardale Jones for the quarterback job at Ohio State, a competition involving such high-quality candidates that it has captivated college football fans across the country.
But while the third-year sophomore can't predict the ultimate outcome of the race, which likely will come down to a photo finish, he has no doubts about what folks can expect from him if he doesn't get the starting nod.
He's not going to pout.
"I know how I'm going to accept it. I'll say, 'Obviously, you didn't make the plays or make the offense the best offense it can be.' It's more an evaluation of myself," Barrett said.
"Who am I going to blame? I'm not going to blame the coach. Or should I be mad at Cardale because he's playing well? That doesn't make sense. So if I'm the backup, then I'll really evaluate myself and focus on the things I can do better. And I'll have that conversation with my coach: 'Why was that the decision you made? What thing do I need to work on to improve?' "
Barrett certainly would have reason to be galled if he isn't the choice after breaking the Big Ten record for combined touchdowns passing and running with 45 last season — except that his counterpart has glowing credentials himself after replacing the injured Barrett and leading the Buckeyes on a three-game rampage to the national title.
But while it's difficult to imagine either player riding the bench, Barrett and Jones would find solace in knowing that at least they're taking a backseat to a friend.
This is no ruthless competition. Each QB would rather help the other step up his play than be thinking of ways to step on his throat.
"If somebody is playing better than me at quarterback, they SHOULD be playing," Barrett said. "That's my mindset, and I think Cardale's is the same, being that we talked about this before. We want the best for the team. We're friends. We hang out all the time. I'm constantly at Cardale's house."
Their affinity for each other has astounded coach Urban Meyer, who isn't accustomed to seeing such maturity from combatants with so much on the line.
"It's one of the most refreshing competitions I've ever witnessed, and that's also from a family (standpoint). The families are great," Meyer said at media day Sunday. "We don't put up with that (parental interference) here, but there's zero of, 'Hey, what are you thinking?' Monday's practice is what we're thinking about, and those two guys get along. When I say best friends, they're unbelievable how well they get along."
When they pledge to support the other no matter how it pans out, that's not just idle talk.
"People say those things, and sometimes it's not genuine. This one is very genuine," Meyer said. "Sometimes I've even witnessed it where guys are battling for a spot, and I hear that but I don't see it. I mean, they really encourage each other. They push each other. It's unique. It's very unique."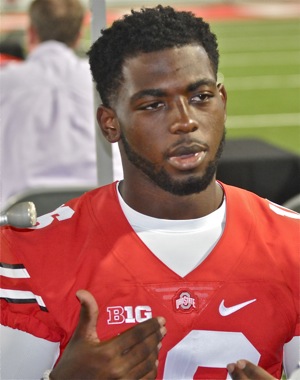 With less than three weeks to go before the opener, Meyer insists he still has no idea who his starter will be. But those who believe he already may be leaning toward Barrett — the Big Ten quarterback of the year last season — would have heard something Sunday to confirm that hunch.
The 6-foot-2, 225-pound Texan is considered the more accurate thrower and a better fit for zone-read runs, a staple of a Meyer offense.
Jones, meanwhile, has been able to stretch the field and send defensive backs into backpedal-mode with his NFL-caliber arm, which is perhaps why running back Ezekiel Elliott had his three biggest outputs after the switch (rushing for 220, 232 and 246 yards in successive games with a 9.2-yard average and eight TDs).
But Barrett may be closing the gap in the big-arm department.
"I was worried about J.T. when we first got him. He had a hard time getting it 50, 60 yards on a rope," Meyer said. "Now, he's fine. He's got great arm strength. His efficiency behind center is outstanding, and what that means is there's not a lot of wasted motion, wasted movement.
"So, he's worked very hard. He actually went to an arm-strengthening specialist at one point. … His arm strength is no issue."
One way to avoid having either player holding a clipboard all game is a two-quarterback system.
Although Meyer is leaving his options open, Barrett hopes the coach doesn't opt for a tag-team approach.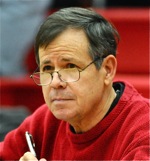 "Honestly, I did that once in high school, and it's hard to get a feel or a rhythm off of what the defense is doing, being that I'm not in the whole time," Barrett said.
"It would be weird if we switched, like, every quarter. I don't think it would be best as far as the quarterback position.
"But if they haven't ruled it out, I'll just do what they say. They're the coaches, I'm a player."
(Edited By Julie McMaken Wright)