With drastically diminished funds, Ohio's state parks are supposed to do more with less, but in some cases there isn't enough staff to pick up the trash. Finding more funds for parks and natural areas should be considered by the governor and legislature.
  I was walking around a boat ramp at one of Ohio's state parks a while back, waiting for someone to pick me up in their boat.
As I walked, I noticed a fair amount of litter on the ground and in the water next to the ramp. It wasn't overwhelming. In fact, if you weren't looking into the brush and rocks along the shore you would not have noticed it. But it was there. Candy wrappers, a Mountain Dew can and part of a container that once held nightcrawlers were down in the rocks. Pieces of a newspaper were stuck in the weeds.
I was going to pick it up and throw it in a trash can. The only problem: there was no trash can anywhere around the boat ramp. I had a plastic bag in my car, so I scooped up what I could reach and put it back in the car to haul away.
I guess that is about all you can do. State parks no longer have enough employees to pick up litter or even empty trash barrels.
There is no question state parks are hurting, but this is not a new situation. The scenario, tied to the problems with the economy, has been twisting in the wind since Robert Taft was governor.
Last week, Tim Snyder, a retired employee of the Division of Natural Areas and Preserves, and current president of the Outdoor Writers of Ohio, had this to say:
"Consider this: Not too many years ago the Division of Parks and Recreation had over 1,000 employees. Now it is down to under 400. The Division is expected to operate at its Gold Medal level with half the employees and an increased list of responsibilities.
"With the virtual demolition of the Division of Natural Areas and Preserves, management of the finest remaining pieces of our natural heritage has fallen to the State Parks. One has to ask how a division that is having trouble keeping up with its own mandated responsibilities can possibly take on more.
"It is the mantra 'Doing more with less' carried to the absurd extreme of 'Doing everything with nothing,' a situation only politicians and accountants can get excited about."
Sure, it's an economic problem, but it is never going to go away unless someone does something about it. And by someone I mean those we have elected to run this state – the governor and members of the state legislature.
Unfortunately, the fate of our parks and natural areas is back toward the end of the line behind such things as education, jobs, infrastructure, etc. But all that means is someone has to be a little more creative than other causes in line with their hands out.
A few years ago, natural resources leaders of a previous administration recognized the need to put some sort of bond issue on the ballot to see if the voters would support adding some taxes to fund the parks. But it "wasn't the right climate to ask for more tax money," I was told.
What they were really saying was, "If our administration asks for any new taxes, it will hurt us in the next election."
It isn't about restoring and improving the parks. It isn't about having enough employees to pick up the trash. It isn't about serving the people.
It's about getting reelected.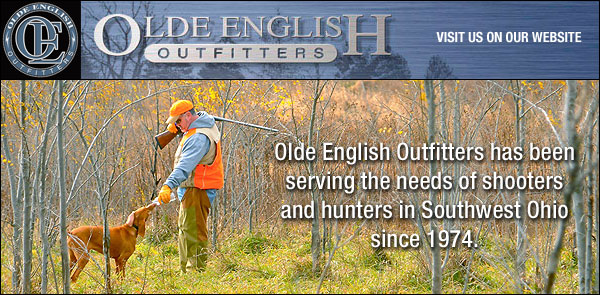 Our comprehensive selection includes over 1500 guns, a full line archery "Pro Shop", shooting & hunting clothing, boots, ammunition, reloading equipment, gun cases, holsters and a multitude of other shooting & hunting accessories.
Olde English Outfitters meets the needs of serious sportsmen and casual enthusiast alike. This is truly a store for all your shooting and hunting needs.
Open this year's hunting season with a trip to Olde English, proud to sponsor outdoors columnist Jim Morris on Press Pros Magazine.com!