Brandon Phillips got his wish Tuesday…the opportunity to stay in Cincinnati, and, a new contract that distinguishes him among the elite second basemen in the game.
Brandon Phillips is a man never at a loss for words — ask him for a drink of water and he gives you Niagara Falls. Brandon Phillips is a man who displays nothing but positive emotions with a smile as broad as the Caribbean Sea.
Speechless? Tears? Doesn't happen in in a decade of leap years when Brandon's in the house.
That moment arrived Tuesday when Brandon Phillips, All-Star/Gold Glove/Silver Slugger second baseman for the Cincinnati Reds, agreed to a six-year $72.5 million contract extension.
He was so happy he cried, "And I never cry," when he told his mother that he was staying in Cincinnati through 2017 to the end of his career. And at his press conference, he admitted, "I'm never nervous and never at a loss for words, but I'm not even going to lie to you, this is probably the first time I've ever been nervous and the first time I've been at a loss for words."
Cincinnati is where he wants to be and Cincinnati is where he wants to end his career. And now it will happen.
Phillips is on the final year of his contract and is making $12 million a year. Negotiations for an extension began last December and dragged and dragged and dragged.
Meanwhile, the Reds invested $225 million to extend first baseman Joey Votto's deal for 10 more years and invested $17 million for a three-year extension to newly acquired relief pitcher Sean Marshall. Phillips? Talks stalled. The Reds wanted to sign him to a five-year deal. The Phillips people wanted six and the Reds relented.
"I begged my agents and general manager Walt Jocketty to get this done," said Phillips. "I wanted to stay in Cincinnati, finish my career in Cincinnati. I didn't want to be a free agent, even though I know what some other guys out there are getting (on the free agent market).
And it is obvious how much Phillips wanted to remain in Cincinnati. He is making $12 million this year. His $72.5 million deal is almost $12 million a year for the next six years. That's no raise and with inflation the value of the contract probably decreases as the years roll by.
"I never thought something like this would ever happen for me," said Phillips. "I cried like a mug with my mom. I told her, 'Mom, I finally made it.' It's a great day for me. It shows how hard I worked. I got designated for assignment by the Cleveland Indians and I came to the Reds and they gave me a second chance to use my talent. I've come a long way and I think the Reds organization for giving me this opportunity."
The man who gave Phillips that opportunity was manager Dusty Baker after then general manager Wayne Krivsky acquired him from Cleveland for pitcher Jeff Stevens on April 7, 2006. Actually, the Tribe gave Phillips to the Reds, asking only for cash or a player to be determined later. Stevens wasn't sent to the Indians until June 13 and hasn't been heard from since.
Said Baker, another guy whose contract expires after this season, "In all my years in baseball I've been around a lot of good and great players. None worked any harder or exerted any more effort or energy than Bandon Phillips. He is only going to get better and better."
To that Phillips said, "Thank you, Dusty. I love you, too."
But, as Phillips says, that doesn't preclude some butt-kicking or butt-chewing if Baker feels he needs it. Even the rich kid needs discipline.
For General Manager Walt Jockety and CEO/owner Bob Castellini, the Phillips signing is another gigant attention-grabber for a small market franchise, a franchise that just invested nearly $300 million in two players within the span of a week.
"This is another big day for the Cincinnati Reds franchise and our great fans," said Jocketty. "We now have under contract for the next several years the cornerstone of our All-Star Gold Glove infield. We have signed a very solid foundation and along with all the young talent we have on our major-league roster and the deep talent in our farm system, we have a chance to build the franchise into a winner for many years to come, to revitalize this great franchise."
Said Castellini of his spending spree as part of his endeavor to return the franchise to the top of heap, "You have your cornerstone signings, and certainly Joey and Brandon are part of that. You do that to build a foundation for the franchise for years to come. I don't anticipate to continue to have all these huge contracts."
Phillips, who found his voice and his smile as Tuesday zipped by, reads into the sudden money tree as a positive note.
"This shows that we are trying to win and bring some championships to this city," he said. "I'm glad and I'm thankful that they paid me and Joey to be here to try to build around us. We're not trying to rebuild, we're trying to win. You want to win, not just compete."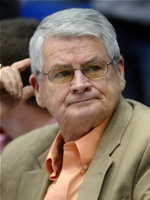 Phillips may be lesser paid than Votto, but he is probably the face of the franchise because of his intermingling with fans, a lot of it through his DatDudeBP Twitter account and his interaction with the fans.
"The fans embrace me and love me and I love 'em back, give 'em back as much as I can," said Phillips. "I have fun, but I'm all about winning on the field. (Manager) Dusty Baker knows that, even though there will be days when he still has to kick my butt."
Phillips, though, now has a posterior padded with a fat wallet and everybody is the happier for it.

Hal McCoy's Reds' spring training reports are proudly sponsored by the Buckeye Insurance Group…insuring the Heartland for over 130 years!