At it's best it's a job about running routes, catching passes, scoring touchdowns and signing autographs.  But there another side to a life, a making a living, in the No Fun League.
Cincinnati – The National Football League is the most popular professional sport in the United States of America. It's arguably the most glamorous and easily the cruelest.
Physically, it's brutal. Mentally, it's taxing. Emotionally, it's draining.
One day you're on top of the world — running routes, catches passes, scoring touchdowns and signing autographs.
The next day, you're cut, released, terminated … tossed on a scrap heap known as the waiver wire. And you're wishing, hoping, praying, that another team takes a chance on you.
The NFL stands for Not For Long. Here today. Gone tomorrow. Such is the cutthroat business that doubles as a sport. Just ask Chad Johnson and Jordan Shipley.
Both former Cincinnati Bengals wide receivers have endured roller coaster weeks, that's for sure, as they head in opposite directions toward the same goal — resurrection.
Johnson was arrested on a domestic violence charge after being accused of head-butting his newlywed wife Evelyn Lozada. The Miami Dolphins quickly released him; VH1 cancelled his reality TV show; and his bride filed divorce papers.
Just that fast, the six-time Pro Bowler, who spent 10 mostly-stellar seasons with the Bengals (2001-10) before a lackluster 2011 with the New England Patriots, was out of work.
Johnson crooked his index finger at me one day in an open locker room media session at Paul Brown Stadium. I leaned over his dressing stall and he whispered words I'll never forget: "When you're on top of your game, they (team management) can't touch you. Once you start going downhill, they can get rid of you like that."
He snapped his fingers.
The Bengals beat Atlanta in the Georgia Dome, 24-19, a week ago to push their preseason record to 2-0 for the first time since 2006. And they were so satisfied with the development of their receiver corps that they cut Shipley a day later.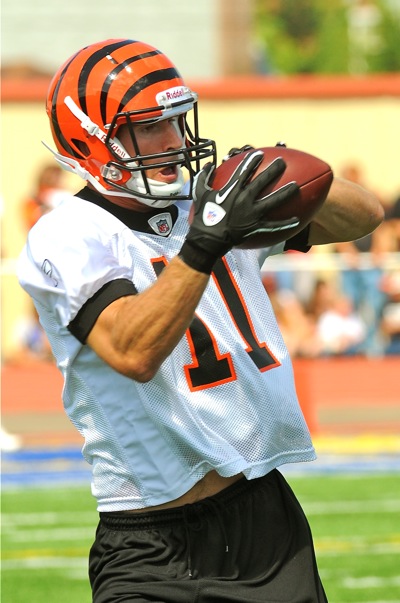 Shipley, the Bengals' third-round draft pick out of Texas in 2010, showed incredible promise as a rookie, generating 52 receptions for 600 yards and three touchdowns. But he sustained a torn left ACL in a Week 2 loss at Denver last season, an injury that kept him down in training camp this year.
NBC Sports' Pro Football Talk declared the following upon Shipley's release: "If he can get back to full speed, he could be a good young addition to some team's receiving corps."
That "some team" is Tampa Bay. The Buccaneers claimed Shipley off waivers on Monday, Aug. 20, and it'll be interesting to see where he fits in if he sticks.
The Bucs have solid starters in Vincent Jackson and Mike Williams, but they're looking for a spark out of the slot. Shipley is expected to compete with Preston Parker and Sammie Stroughter for that job.
But first things first. Shipley must pass Tampa Bay's physical exam before he's allowed to practice.
Unlike Major League Baseball, NFL contracts are not guaranteed. The only guaranteed money is the signing bonus and, sometimes, the base salary the first year.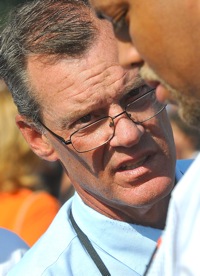 Shipley, who turns 27 in December, has two years remaining on the four-year, $2.547 million rookie contract he signed in 2010 that included a $757,000 bonus.
The Buccaneers figure they can live with that.
The question now: Can a team — not named the Cincinnati Bengals, New England Patriots and Miami Dolphins — live with a 34-year-old receiver formerly named Ochocinco?
He remains incredibly popular with 3.7 million followers on Twitter.
But two of Johnson's contemporaries — Terrell Owens (Seattle) and Randy Moss (San Francisco) — along with Shipley have what Johnson wants.
It's simply this:
A job.
(Chick Ludwig once again will host the "Monday Morning Quarterback" show on Mondays from 6-9 a.m. on Fox Sports 1360 (WSAI-AM). Follow Ludwig on Twitter @ChickLudwig)