Against all odds, the Bengals survived a scare from Tampa Bay, winning an ugly, sloppy 14-13 thriller at Raymond James Stadium to complete a three-game road sweep on the road.
CINCINNATI — A show of hands, please. How many Cincinnati Bengals fans out there — from sea to shining sea and beyond — thought their favorite team would win three straight games … all on the road … especially in November?
Against all odds, the Bengals survived a scare from Tampa Bay, winning an ugly, sloppy 14-13 thriller at Raymond James Stadium to complete a three-game road sweep of the New Orleans Saints, the Houston Texans and Tampa Bay Buccaneers.
And, yes, winning on the road for the third consecutive week is a franchise first for the Bengals, who were born in 1968.
The Bengals (8-3-1) enter the final month of the regular season with a game-and-a-half lead in the AFC North Division, thanks to losses by all three division foes on Sunday, bloody Sunday.
Pittsburgh — which visits Cincy on Sunday — lost at home to New Orleans, 35-32; Buffalo clobbered visiting Cleveland, 26-10, as Browns rookie quarterback Johnny Manziel replaced an ineffective Brian Hoyer; and San Diego burst into Baltimore and robbed the Ravens, 34-33. The Steelers, Browns and Ravens all fell to 7-5.
How did the Bengals win this one? Good question, eh? They did it with a flu-ridden quarterback in Andy Dalton, an extremely stingy defense led by linemen Geno Atkins and Carlos Dunlap, and a heads-up sales job to the refs by head coach Marvin Lewis, who caught the Buccaneers with 12 men on the field.
STAR OF THE GAME
Dalton was both "Bad Andy" and "Good Andy" in a wild 60-minute stretch on a sunny, 77-degree afternoon in Tampa.
Force-fed a bag of intravenous (IV) fluid Sunday morning after getting bit by the flu bug Saturday night, Dalton ran for one touchdown and hooked up with wide receiver A.J. Green for another TD as Dalton overcame three first-half interceptions.
"It's unfortunate (the flu) happened (Saturday) night, but I was able to push through it," Dalton told the media afterward. "I didn't get much sleep and tried to wait as long as I could before I got an IV. But I got an IV (Sunday) morning and tried to get some fluids back in me.
"As time went on, I felt better. But I'm not going to make any excuses for the way it came out the first half."
In the midst of tossing three picks, Dalton scored on a 5-yard, zone-read scramble at 1:08 of the second quarter, helping the Bengals pull within 10-7 at halftime.
Dalton's 13-yard TD pass to Green gave the Bengals a 14-10 lead at 2:04 of the third quarter. But the Bengals botched a surprise on-side kick, leading to Patrick Murray's 42-yard field goal with 14:12 to go as the Bucs clawed to within 14-13.
Fast forward to the game's final minute when all heck broke loose.
 
TURNING POINT
With the Bucs facing second-and-15 at Cincinnati's 41-yard line with 32 seconds remaining, quarterback Josh McCown rifled a 21-yard pass to Louis Murphy at the Bengals' 20-yard line.
But the completion that would have put Tampa Bay in doable field goal range was wiped out after a replay review confirmed the Bucs had 12 men on the field.
Lewis threw a challenge flag, which is illegal under the two-minute warning. It cost the Bengals a timeout as a penalty from referee Bill Leavy, but it was worth it. A 12-men penalty is reviewable after a clock stoppage. The replay showed 12 Bucs on the field. Tampa Bay was hit with a 5-yard penalty, and the Bucs failed to get a first down on three straight pass plays.
"It was an unfortunate thing for them (the Bucs), obviously, and a big play for us," Lewis said. "We were having a hard time getting lined up on defense because of the twelfth man."
Lewis said the three straight road wins were "big and what we needed to do on the season. The only thing that matters is us. We've got to go home, regroup and get ready, and have a big game against Pittsburgh this week. It was good to come down here and win in the heat."
QUICK HITTERS
Despite the flu, Dalton completed 19 of 27 passes (70.4 percent) for 176 yards, one TD and three INTs … Bengals wide receiver Mohamed Sanu fired an 11-yard pass to A.J. Green in the second quarter and is 5-for-5 passing for 177 yards in his three-year NFL career. Sanu also took a direct snap in the Wildcat formation and rushed for 10 yards … Tampa Bay had a pair of drive-starts at Cincinnati's 9- and 31-yard lines, but the Bengals defense held the Bucs to field goals both times … Geno Atkins and Carlos Dunlap shared the Bengals' only sack of McCown, but they combined for four tackles for loss and three quarterback hits.
FAST FACT
The NFL has announced plans for "Week 15 Flex Scheduling." The Bengals-Browns game in Cleveland on Sunday, Dec. 14, moves to FOX at 1 p.m., followed by the Vikings-Lions game in Detroit at 4:25 p.m. on FOX. The Cowboys-Eagles game in Philadelphia remains in place on NBC's Sunday Night Football.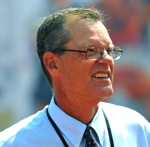 QUOTE MACHINE
"At the end of the day, you want to win by one point. When you look back on it, it's a win. We've got to keep finding ways to win by one point. This one was pretty crazy, but I'm glad we ended up with a win. We knew we were going to have a big road stretch here, and we were able to get three wins. So now we're back to home-away, home-away. We know what's important. And this next one (home vs. Pittsburgh) is a big one. We had to get these wins. We're in control of everything." — Bengals QB Andy Dalton
(Chick Ludwig hosts the "Monday Morning Quarterback Show" on Mondays from 6-9 a.m. on Cincinnati's Fox Sports 1360 (WSAI-AM). Follow Ludwig on Facebook and Twitter @ChickLudwig