The coach of the UD baseball Flyers is so pumped up about his style of play, his school, and his team it's hard to imagine anyone not wanting to be a part of it.  And that's his point.  Just ask him.

DAYTON  – "You want to write about Dayton baseball?"  said Tony Vittorio.  "Great!  Meet me on Friday in my office at 11 am."
And so my introduction to a man and coach so enthusiastic about his style of baseball, his school, and his team…I felt like I had been recruited by the time I hung up the phone.
Such as it is with the coach the UD Flyers, in his 14th season at Dayton, defending champions of both the Atlantic 10 regular season and the conference tournament from a year ago.  What his program lacks in national profile ("It's cold weather baseball here, you know,"  he says with a laugh) he more than makes up for with enthusiasm, hard work, and optimism.
More important, he looks for players who are just like him.  He embodies the philosophy of being 'the little engine that could', compared to the bigger, higher profile programs that surround UD from the Big Ten, SEC, MAC, and The Big East.  And, he has his method!
"We want to maintain a program that plays championship-level baseball,"  he said last Friday, perched in his crowded office tucked away in the Frericks Center, the old UD Field House, on campus.
Baseball at UD doesn't garner the attention, or the financial reward, that basketball brings.  On a given night 12,500 people crowd UD Arena to see Archie Miller's team.  A fraction of that is a great day for UD baseball, a point that Vittorio continually reminds those who claim to be die-hard UD supporters…those who've yet to see their first UD baseball game.  It doesn't bother him.
He smiles over the disparity in scope.  But his brow tenses over any perceived difference in competitiveness.
"Our expectations are to win championship and compete at the national level,"  he assures when asked to compare UD baseball with neighboring, rival programs. "We're able to do that when we can play our style of baseball."
He's won 500 games at Dayton with his "style" of baseball.  "Small ball" some would call it.  "Hyper ball" is what it amounts to.  Catching up with Dayton baseball is like chasing the wind.
The Flyers ran opponents ragged in 2012, leading the nation in stolen bases with 164 for the year.  For their trouble, and the trouble caused to opposing pitchers and defenses, the Flyers advanced to the NCAA Tournament for the first time in school history.
"Our kids are tough and competitive,"  he'll tell you with a wide grin.  "We don't hit a lot of home runs, and we hit even fewer now with the new BBCOR aluminum bats.  So we run and we emphasize an aggressive scheme on the bases.  Just about everyone on our team is on their own to steal.  The idea is to put pressure on the pitcher and the defense.  Make them play our game.  Make them make plays to beat us."
And the Flyers did that in 2012, winning 31 games in the regular season…a 17-7 mark in the Atlantic 10.
"We led the A-10 in just about every offensive category you can list,"  he says proudly.  "Doubles, triples, on-base percentage, stolen bases…everything you can do aggressively on the bases we do."
Except, however, the hit and run.
"Don't really do it,"  he adds.  "We play the percentages.  Kids at this level really don't control the bat well enough, and a good catcher…and I mean a good one…only throws out about 40% of stolen base attempts.  The numbers are in our favor on the straight steal.
"All except home plate,"  he qualifies.  "The percentages are pretty low on stealing home.  And we play the percentages."

He likes kids who compete, and he knows where his bread is buttered in that respect.  He looks ahead for potential players as much as three years before they graduate high school, and a lot of them from within 50 miles of the UD campus.  His roster is sprinkled with players from the Miami Valley…from Miami and Shelby counties.  State-wide, he recruits from Wheelersburg to Strongsville.
"We get 80% of our kids from Ohio, Indiana and Illinois…some from Michigan and Kentucky,"  he confesses.  "We do very well with kids from Catholic communities who want the Catholic education that UD offers.  It's hard for us to see kids during their high school season, so we focus on many of the summer "elite" programs where we can go see a prospect play over a weekend.
"But I'll tell you this,"  he adds.  "Press Pros has a lot of potential for us to follow area kids during their high school season, as well.  All I can do is look for good players, and a kid either has an inspiration to play every day, or he doesn't.    That's what we're looking for when we find and follow a prospect."
Including those kids who have a choice of playing baseball and another sport in college.  Again, Tony Vittorio is all about playing the percentages.
"You know what I tell kids who talk about playing football?"  laughs Vittorio.  "I tell them…why would you want to go to college and do all that work in the off-season to go out and play 12 games a year?  Huh?  You come and play baseball for me and you can play 60 games."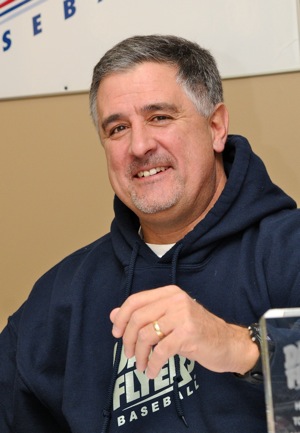 Playing the percentages he absolutely gets the most out of every opportunity afforded him in baseball, even in bad weather.  And if he had his way, he'd have a better percentage there, as well.
"Oh, I'm a fan of playing later in the year, for sure,"  he admits.  "The cold weather issue for Midwest baseball is something you just can't control, and if I could I'd open in May and play all summer.  Summer baseball in college would be great.  You'd get better crowds and you'd have less injuries.  You wouldn't need to send players off to the Cape Cod League to play, either.  Who do we need to talk to about that?" he says with a laugh.
Yes, Tony Vittorio laughs.  He's high energy, the perfect profile of a "player's" coach.
He'll talk baseball with you, breakfast, lunch and dinner.  He's entertaining, and a frequent guest of the Dayton Agonis Club, where he spoke this past Monday.
And, he's a very good salesman, to recruits and anyone who's yet to see their first UD baseball game at beautiful Time-Warner Stadium, adjacent to UD Arena.
His baseball team opens this weekend in South Carolina against Gardner-Webb University, so he's a little busy as he prepares to defend his A-10 title from a year ago.  But not so busy as to promise…he'll be checking out Press Pros this spring.
"You know," he brightened, "I could do a 'Coaches Corner' column for you."
A possibility, I guess, if we could keep up with him.  Not likely.  It's hard enough to catch up with Tony Vittorio.
Unless you're on the bus with him to South Carolina, the percentages aren't in your favor!