People who mock the life in small-town America have never lived the life, or known the people, who characterize the best of what we aspire to be.  Meghan Vogel gave us all hope through her personal example.
Ed. Note:  We're often asked to reprint stories and columns from the past, and none better than this one from Bruce Hooley, on the eve of another state tournament for track and field. 
Columbus – People who've never lived in a small town, who've never experienced the serenity and charm of life's slow lane, have a derisive phrase they ascribe to places like West Liberty, Ohio.
"It's one of those towns where the streets fold up at 6 o'clock."
There's a certain truth in that phrase, but the redeeming aspect of that truth escapes those who brandish the description as a barb.
Most nights, not much happens after the dinner hour in West Liberty, the village wedged between Bellefontaine and Urbana where I grew up and — though I've long since moved to a series of different addresses — still call home.
That's because once people finish a hard day's work on the farm or in some nearby city or town, they return to their home and spend the rest of the evening with their family. They don't do it because they have to, but because they want to…because chasing some neon dream in a nightclub holds no allure for them.
Tending their garden, visiting across the back fence with a neighbor or maybe taking in a softball game at the city park is how they relax and rejuvenate themselves.
The people who mock that life do so only because they've never lived it.
There are thousands of charming towns like West Liberty across this great land, the sorts of places that never make the headlines, and never seek to impose themselves there. If the spotlight ever comes their way, it's usually because some modest action that seems totally normal to the townspeople rings so unique in the big cities that they sit up and take notice.
Meghan Vogel stepped into that vortex roughly 10 days ago at the Ohio track and field state championships. She won the 1,600-meter run in a personal-record time, defeating a rival she had never beaten before.
Exhausted from that effort, Vogel had little left for the 3,200-meter run about an hour later. Rather than withdraw, or quit mid-race when she dropped into last place, Vogel committed to completing all eight laps around the track in Ohio Stadium.
Just before the finish, Vogel saw the runner ahead of her collapse. Rather than pass her, Vogel helped that fallen competitor to her feet, put an arm around her waist and helped her to the line, where she allowed the runner to finish ahead of her.
Vogel's story has been told around the world via the Internet, Facebook, Twitter and all the other assorted ways news travels these days. She's been feted by the Ohio Senate, criticized by Rush Limbaugh and had a scholarship named after her for those who exhibit similar sportsmanship.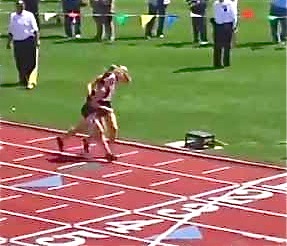 Every side of the Meghan Vogel's story has been told, it seems, right down to the series of speeches that punctuated the parade in her honor Monday evening in her home town.
The streets didn't fold up that night at 6 o'clock. They stayed unfurled long enough for the locals to stray from their regular routines and laud one of their own.
People lined Main Street to pay homage in their quintessential small-town way, with polite applause and, of course, an ice-cream social.
So, in that vein, allow me to present the cherry atop the sundae on Meghan Vogel's moment in the spotlight.
Back in 1977, before Meghan ever came on the scene, her uncle, Butch Sower, was a top runner on West Liberty-Salem's eventual state champion cross country team. In the district meet to qualify for the state, Butch ran neck-and-neck with his chief rival, John Locker, of Twin Valley North High School.
Locker fell on the uneven turf, giving Sower an opening to sprint away. Instead, he stopped and helped Locker to his feet, and then they resumed their race.
Six months later in the state track meet, in the two-mile run, Locker held a lead of nearly 150 yards on Sower entering the final lap. Sower, though, was known for his finishing kick, and he brought the crowd to its feet with a desperate dash to the finish line.
Stride after stride, Sower ate up the distance between he and a fading Locker, until the space between them shrank to only a few feet.
The effort Sower's comeback required sapped every ounce of strength from his legs. Consequently, just before the finish, he collapsed in a heap, giving Locker the victory.
I stood and applauded my teammate that day, swelling with pride over the never-give-up spirit he displayed, just as I figuratively rose to my feet and applauded Meghan Vogel's simple act of charity when I heard the news.
I'd like to think the goodness that rose to the surface in her that sweltering Saturday afternoon came not just from her uncle and her mom, Ann, Meghan's coach and a former state champion runner herself.
I'd like to think that kindness, perspective and selfless spirit resides in everyone whose foundation traces to their small-town roots and the realization that life is bigger than the image looking back at them every morning from the bathroom mirror.
Because if it doesn't, may heaven help us all.
Bruce Hooley is the author of, "That's Why I'm Here, the Chris and Stefanie Spielman Story", and the former sports editor of The Troy Daily News.  Email Bruce hoolz@espncleveland.com.  Follow Bruce on Twitter @bhoolz