Although the opening of waterfowl seasons in Ohio is months away, the annual Waterfowlers Boot Camp at the Cardinal Center in Marengo is a good place to get in the mood.
The eighth annual Waterfowlers Boot Camp and Outdoor Festival will be July 21-22 at Cardinal Center Campground in Marengo.
The two-day event, presented by the Ohio Waterfowl Association, features more than 75 vendors demonstrating and selling hunting equipment, seminars led by professional calling and hunting celebrities and seven waterfowl calling contests. Included are sanctioned calling qualifiers for the Ohio State Championship and the Great Lakes Championship, as well as two $1,000 shootouts.
Even though actual waterfowl hunting in Ohio is months away, the boot camp will help duck and goose hunters prepare with new ideas and equipment.
A kids boot camp Saturday morning (July 21) will teach shooting, calling and hunting techniques to youth ages 6-12.
Camping is available on the 200-acre Cardinal Center grounds, located 25 miles north of Columbus on I-71. Parking and admission to the Waterfowlers Boot Camp are free. Hours are 8 a.m. to 5 p.m. Saturday, July 21, and 8:30 a.m. to 3 p.m. Sunday, July 22.
For more information, visit www.waterfowlbootcamp.com.
Online survey for waterfowlers
The Ohio Division of Wildlife is asking Ohio waterfowl hunters to provide input on the timing of the fall waterfowl hunting season and where they prefer to hunt in Ohio.
The Ohio Wildlife Council will establish season dates and other regulations in mid-August after federal guidelines are established for the upcoming season.
Biologists are seeking input from Ohio waterfowl hunters through an online survey so opportunities can be closely matched to the preferences of as many hunters as possible within the constraints of federal guidelines.
The survey is available at wildohio.com until Aug. 1.   Hunters will need to have their customer identification number available (found on all Ohio hunting and fishing licenses) when they take the survey.
Similar information was solicited from Ohio waterfowl hunters last summer and used to set the 2011-2012 hunting season dates within each zone.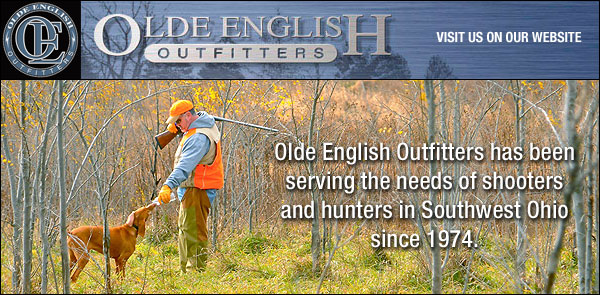 Our comprehensive selection includes over 1500 guns, a full line archery "Pro Shop", shooting & hunting clothing, boots, ammunition, reloading equipment, gun cases, holsters and a multitude of other shooting & hunting accessories.
Olde English Outfitters meets the needs of serious sportsmen and casual enthusiast alike. This is truly a store for all your shooting and hunting needs.
Open this year's hunting season with a trip to Olde English, proud to sponsor outdoors columnist Jim Morris on Press Pros Magazine.com!