Plans call for extra gun hunting weekend in December to be dropped, but a new antlerless-only muzzleloader weekend in October will be added. Bag limits will differ by county. But that's not all.
Some drastic changes are coming for Ohio deer hunters.
The leadership of the Ohio Division of Wildlife has proposed changes for 2013-14 that include bag limits, permits, hours and seasons.
The extra two-day December gun season will be eliminated, but a new muzzleloader weekend season has been created.
In an effort to have hunters kill more antlerless deer (mostly does) the Division of Wildlife will propose an antlerless-only muzzleloader season for the second weekend in October. The regular muzzleloader season will not be affected, still taking place in early January.
Also proposed is the elimination of deer zones, including all urban deer zones. Bag limits would be set on a county by county basis. A hunter will be able to take deer in any county and can count up to nine deer statewide. That number was 18 last year. A hunter could take more deer by participating in controlled hunts, which do not count against bag limits. As in the past, only one buck can be taken per year.
"Most hunters who kill a deer take only one," said Scott Zody, chief of the Division of Wildlife. "A few kill two and every once in a while someone will get three. But it's rare for someone to take more than three."
Following are the proposed bag limits for the 2013-2014 season:
  — 2 deer: One either-sex permit, one antlerless permit (eight counties): Darke, Erie, Fayette, Hancock, Madison, Ottawa, Sandusky and Wood.
 — 3 deer: Two either-sex permits, one antlerless permit (23 counties): Auglaize, Butler, Champaign, Clark, Gallia, Harrison, Henry, Hocking, Jackson, Jefferson, Lawrence, Logan, Meigs, Mercer, Miami, Monroe, Montgomery, Perry, Preble, Ross, Shelby, Van Wert and Washington.
 — 4 deer: Three either-sex permits, one antlerless permit (57 counties): Adams, Allen, Ashland, Ashtabula, Athens, Belmont, Brown, Carroll, Clermont, Clinton, Columbiana, Coshocton, Crawford, Cuyahoga, Defiance, Delaware, Fairfield, Franklin, Fulton, Geauga, Greene, Guernsey, Hamilton, Hardin, Highland, Holmes, Huron, Knox, Lake, Licking, Lorain, Lucas, Mahoning, Marion, Medina, Morgan, Morrow, Muskingum, Noble, Paulding, Pickaway, Pike, Portage, Putnam, Richland, Scioto, Seneca, Stark, Summit, Trumbull, Tuscarawas, Union, Vinton, Warren, Wayne, Williams and Wyandot.
Each hunting day will be extended to one half hour past sunset for all deer hunting. Deer and fall wild turkey permits would go on sale June 1, instead of March 1.
The public can comment about deer at wildohio.com or in person at district open houses on March 2. After receiving public input, the Ohio Wildlife Council will vote April 17.
Ohio deer kill slightly down
Ohio hunters finished less than 1,000 white-tail deer behind last year's total when the 2012-2013 season ended on Sunday. The latest figures were 218,910, compared to 219,748 deer in 2011-2012.
Following are the totals for area counties with last year's totals in parenthesis:
Adams 4,111 (4,208), Allen 1,110 (1,037), Auglaize 986 (731), Brown 2,933 (3,086), Butler 1,498 (1,583),  Champaign 1,453 (1,614), Clark 862 (930), Clermont 3,141 (3,304), Clinton 1,007 (1,015), Darke 1,004 (819), Greene 1,105 (1,073), Hamilton 2,175 (2,256), Highland 3,250 (3,304), Logan 2,094 (2,284), Mercer 804 (625), Miami 961 (827), Montgomery 804 (676), Preble 1,205 (999), Shelby 1,294 (1,009), Warren 1,605 (1,634).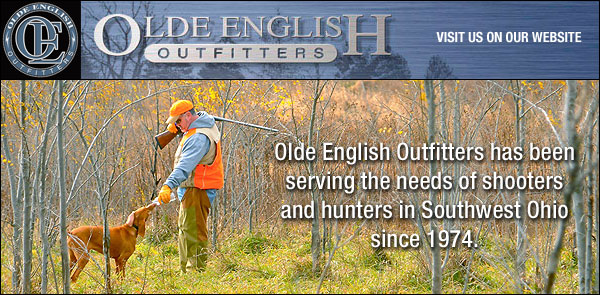 Our comprehensive selection includes over 1500 guns, a full line archery "Pro Shop", shooting & hunting clothing, boots, ammunition, reloading equipment, gun cases, holsters and a multitude of other shooting & hunting accessories.
Olde English Outfitters meets the needs of serious sportsmen and casual enthusiast alike. This is truly a store for all your shooting and hunting needs.
Open this year's hunting season with a trip to Olde English, proud to sponsor outdoors columnist Jim Morris on Press Pros Magazine.com!