"Andy (Dalton) is our quarterback and we're behind him 100 percent. It's not about Andy. It's about (staying true to) our (draft) board."
CINCINNATI — Cincinnati Bengals fans knew, just knew, the club was going to pick a quarterback in the 2014 NFL Draft. It wasn't a matter of if, just when.
The "when" came Saturday afternoon when the Bengals drafted their "Quarterback of the Future." Maybe the not-too-distant future. But first things first. He has to make the squad.
A.J. McCarron — who guided the Alabama Crimson Tide to national prominence and captured the prestigious Maxwell Award as a senior — was tapped by the Bengals in the fifth round with the 164th overall pick.
Moments later, Bengals offensive coordinator Hue Jackson wanted to make one thing perfectly clear.
"Andy (Dalton) is our quarterback and we're behind him 100 percent. It's not about Andy. It's about (staying true to) our (draft) board."
If the Bengals simply view this blockbuster move as looking to develop a solid, young quarterback who is no threat to Dalton's immediate future, then they tapped themselves a pretty darn good powder keg.
McCarron, a 6-foot-3, 214-pounder, is expected to compete with veteran backup Jason Campbell, who signed a one-year deal in the offseason.
McCarron represents insurance in case the Bengals can't sign Dalton to a long-term contract. Dalton is arguably the most polarizing figure in Bengals history. You either love him or hate him.
Jackson said the playing order goes like this: Dalton, Campbell … and he's not sure if the club will keep three. If the Bengals want McCarron on their practice squad, they'll have to waive him on "Cutdown Day" and pray he clears waivers.
"It feels good to be a part of Who Dey Nation," McCarron told the Cincinnati media. "I know Andy is the quarterback there. I'm just ready to do what I can. I respect Andy. I've watched him a ton. I can't wait to work with Andy, one of the best in the league."
But like any rookie who enters the NFL, McCarron wants to play. He brought up the name of Tom Brady. New England's perennial Pro Bowler and future Hall of Famer wasn't drafted until the sixth round (No. 199 overall) in 2000.
"I always go to work with a chip on my shoulder," McCarron said. "It doesn't matter if you're No. 1 or 199 like Brady."
The Bengals pulled the trigger on McCarron after Kansas City — under head coach Andy Reid — plucked Georgia's Aaron Murray.
Oh, the irony! Back in 1999, Reid and the Philadelphia Eagles snagged QB Donovan McNabb at No. 2, leaving the Bengals with the dregs known as Akili Smith at No. 3. Tim Couch went No. 1 overall to the Browns.
Dalton's future in Cincy is as murky and muddy as the Millcreek. His four-year rookie contract expires as the end of the 2014 season and, so far, the two sides have not been able to get an extension done. The hope is for both sides to reach common ground on a contract that could earn Dalton between $10 million and $18 million per year for five or six years.
I believe Dalton deserve a new contract. But he does NOT deserve Joe Flacco money (6 years, $120.6 million).
Dalton set single-season franchise records for passing yards (4,293) and touchdowns (33) in 2013. His 30-18 regular-season record is awesome, but his playoff record (0-3) is awful.
The good news: His ceiling is high and he's shown steady improvement during his career. The bad news: He'll continue to garner criticism until he wins in the postseason.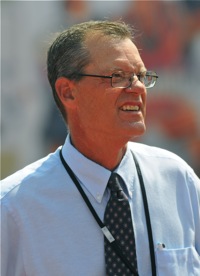 The biggest sticking point to the new deal will be guaranteed money. Look for the contract to contain a series of incentive clauses that rewards Dalton for postseason success, plus an "out" clause on the team's behalf after one, two or three years in case Dalton fails to deliver.
QUICK HITTERS
·      Bengals quarterbacks coach Ken Zampese on McCarron: "With quarterbacks, it's not about height, weight or speed, but intangibles. He's a 'we guy,' not a 'me guy.' "
·      San Francisco 49ers Coach Jim Harbaugh, a former Michigan QB, when asked by NFLNet about the irony of taking Ohio State tailback Carlos Hyde: "Fellow Big Tenner."
·      McCarron spent time working with Bengals legendary QB Ken Anderson. "Coach Ken was unbelievable," McCarron said.