They say nice guys finish last?  Former Ohio State teammate Barry Bonnell not only beat the rap, he's anything but finished.

Over the years, for the fact of my years umpiring in professional baseball people have often asked, "Who's the best player you ever saw in the minor leagues.?"
Well, I can obviously say I saw a bunch of them in my seven minor league seasons:  Alan Trammell and Lou Whitaker (Detroit Tigers), Mario Soto (Reds), Clint Hurdle (Royals), Lee Smith (Cubs), and John Castino (Twin), to name a few.  All of these went on to have successfull, if not spectacular, major league careers.  And I can honestly cay with some satisfaction…that I knew them when.
But with just as much conviction I can say none of the above was the best player I ever saw on daily basis.  The best player I ever saw in that respect I actually played with, up close, personal, and every day.  That distinction would go to one Robert Barry Bonnell, an Ohio State teammate from 1972 through 1974, an outfielder with all five baseball tools.  He could hit, hit with power, run, field and throw.
He was the complete player who left Ohio State after his junior season to sign with the Philadelphia Phillies.  And in 10 major league seasons with the Braves, the Toronto Blue Jays, and the Seattle Mariners, he would average .272, hit 56 home runs, and drive in 355 runs.  And he did all this while frequently being platooned.  The major leagues, for the fact of who plays and why, have always been a mystery.
"I really enjoyed my time in the big leagues,"  he said this week, back in Ohio to attend his high school reunion and an impromptu get-together with some teammates from our 1973 Ohio State team.  "I played with a lot of great players and have a lot of great memories, but I don't dwell on it.  It's  just something that I did and I'm proud of my association with baseball.  In fact, sometimes I wish I had maybe played a couple of more years. But I left the game because I felt I need to be at home with my family.  Being a major league ballplayer is a tough way to raise your children."
Barry Bonnell was hard describe as a player and teammate.  Shy and reserved, and a devout Mormon, he nonetheless played with an aggressive enthusiasm that stood out immediately.  They say that nice guys finish last?  Forget about that.
In a game I pitched against  Minnesota in 1972 he twice bailed me out by running down balls hit by Dave Winfield, making diving catches on both, one forehand and one backhand.  He also threw out a runner at the plate from right field, a laser shot that carried to the plate on the fly, beating the surprised runner attempting to tag and score.
He hit line drives, and the occasional home run.  But his forte was his ability to outrun the defense's effort to throw him out.  He could run like a deer, and any  infield ground ball not hit directly at a fielder was made a close play by his speed.  6'3″ and 190 pounds, his long strides literally ate up the ground when he was at top speed.  Any ball hit in the outfield gaps was usually a triple.
Bonnell left the major leagues early because he felt there was more to do with his life than baseball.  A man of many skills and interests, he had a variety of interests, a renaissance man of sorts.  He flew (as a pilot) for Northwest Airlines.  He left flying to enter the business world where he worked in the Home Medical Equipment field for ten years. After that he became an importer, supplying a variety of items to large brick and mortar retail chains.
But given the opportunity now to talk about baseball, he smiles at the thought of times spent as a Buckeye at old Trautman Field.
"Those were great days, and honestly I remember my teammates and having fun with them more than anything about a particular game.  You remember stuff I forgot years ago.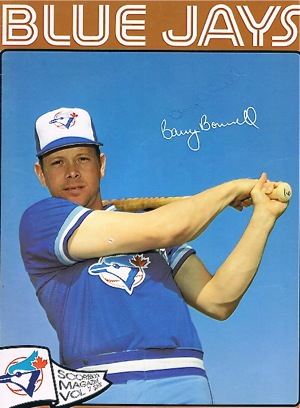 "I played for Marty Karow, and while Marty was a tough ol' guy, he also knew baseball and demanded excellence.  He appreciated hustle and effort from his players.  He was a good baseball man, but he was hard to understand sometimes, too.  He used to call me a big dumb farmer, which made no sense.  I grew up in Milford, Ohio an I didn't know the first thing about farming."
His family grown and now with more time for newer pursuits, Bonnell has turned his focus towards writing and a memoir of his experiences on and off the baseball field.
"It's tough to write a book, as you probably know,"  he shares.  "You write and then you re-write.  Hopefully I'll  get it done and published sometime soon."
Delighted for the opportunity to reconnect recently with the likes of former teammates Terry McCurdy, Jim Haney, Mike Stange, Larry Romanoff, John Littlejohn, Harry Tabler, Bill Sero, and this writer, he lives now in Redmond, Washington, and rarely sees any of his former Buckeye mates.
"I don't know if I've actually seen an Ohio State game since I left campus,"  he says.  "My daughter played softball here and I saw some of her games, but that's about it.  This is very special for me.  It's nice to see the guys again."
And nice to have you, Barry…back in town!