Nothing is sweeter to the human psyche than a little confirmation…or vindication.  Hence, a big "We Told You So" from a recent Press Pros  feature on Princeton hoops standout Kelsey Mitchell.
When we wrote about Princeton High School (Cincinnati) junior-to-be Kelsey Mitchell back in March I used strong language…superlatives…to describe the game of the then sophomore point guard of the Lady Vikings.
Kelsey Mitchell doesn't just run the court, I wrote…"She glides in the grandest tradition of another Cincinnati legend, Oscar Robertson."
Kelsey Mitchell doesn't just handle the ball, she's discouraging to opposing teams for her single-handed ability and devastating vision of the court.
Kelsey Mitchell doesn't just shoot the ball, her left-handed jump shot from well beyond the three-point line is reminiscent of machine gun fire, deftly quick and insidiously accurate.
In short, I wrote that Kelsey Mitchell, the #1-rated sophomore women's basketball prospect in America would not only start for every area boys team, division notwithstanding, in Miami, Darke, Shelby, and Champaign counties, she'd excel.  She might even embarrass a few of the boy 'ballers.  Some who read my words took exception.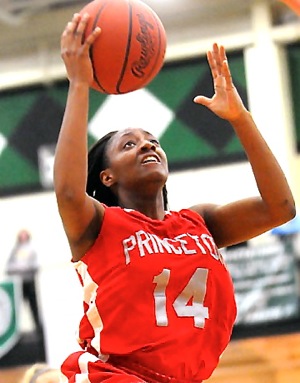 One wrote, "You get carried away too easily."
From another:  "There's no way."  (expletive deleted)
Well, there's nothing more heartening to the human psyche than confirmation from a higher source, and so it was this week when Sports Illustrated.com came out with its list of 15 prep athletes destined to change the future of their respective sports, in football, swimming, wrestling, even ski jumping…and Kelsey Mitchell was selected as one of those 15 athletes, one who stands atop the game of prep women's basketball nationwide.
"A 5'7″ point guard who averaged 19.4 points a game, 3.9 assists, and 2.3 steals per game, Kelsey is the highest rated prospect in the Class of 2014, according to ESPN,"  writes SI.
And if you'd like to see the full SI Kelsey Mitchell page online, click on the following link:  http://sportsillustrated.cnn.com/multimedia/photo_gallery/1206/future-game-changers/content.10.html
What SI didn't say was…Kelsey would start for every boys team in Miami, Shelby, Darke, and Champaign counties…and excel.  That's still my story and I'm sticking to it.  Boys, take note…and get back in the gym.