One of the most popular of recent features on Press Pros…questions on the Reds and baseball for hall of fame columnist Hal McCoy.  In this edition:  "head hunters", too many teams, homesick for Florida spring training, old men and "bad" cigars, and…does Zack Cozart get enough respect as one of the game's best young shortstops?
From Mike in Sidney…If my memory is right Reds pitchers rarely get into beanball exchanges with other teams.  Is this a team principle, and are there some National League teams that are more open to throwing (at hitters) than others?
Hal: Mike, maybe it's the fact they throw at hitters but miss them, eh? But I doubt it. It isn't something a team puts in or keeps out as a principle. Some pitchers are just meaner than others and for sure there are no more Bob Gibsons, Don Drysdales and Juan Marichals, guys who would throw high and tight and spin a guy's hat and stand and either laugh at them or glare at them. I've heard it said that because of free agency where players are mercenaries and go from team to team they all have friends on each teams so everybody stays lovey-dovey.
From Steve in Evansville…In my opinion there are too many teams in every major league sport, and especially baseball.  Talent is diluted (especially pitching) and some cities just don't seem like baseball towns.  If you could eliminate six teams from both leagues, which would they be, and why?  Thank you for your answer.
Hal:  Steve, six seems to be an awful lot. I know I can start with one in each league and that would be the two Florida teams — Tampa Bay and Miami. Tampa Bay has very good teams nearly every year and the Marlins come up with good teams every five years or so, but the only thing either team draws are mosquitos. Other than those two, most cities support their teams. Pittsburgh is an issue, but they haven't won in my grandson's lifetime and he is in college. If the team would win, they have one of baseball's best stadiums and would draw. I do agree that talent is diluted, not even close to what it was when there were only eight teams in each league. Back then some Triple-A teams would finish higher in the majors than some teams in the big leagues now. But reducing teams? Won't happen. The Players Union is too strong and too protective of all those cushy jobs, especially the pitchers who only work every fifth day.
From Joe B…I'm watching golf and baseball from Arizona and it looks like everyone there is miserable.  The weather is cold and I know a lot of Reds fans from back home that say they'll never make the trip to Goodyear for spring training.  Do you ever see the day when they go back to Florida, or will the current arrangement outlive us all?
Hal:  Joe, keep your condo in Siesta Key, but don't look for the Reds. Won't happen. They have a lease in Arizona until 2040 and try breaking that. But maybe Goodyear will kick them out if they don't draw more than the 1,720 they drew recently. This is their fourth year in Goodyear and, man, it gets cold at night in the desert. And sometimes it is doggone cold during the day. I've been here 15 days and have worn shorts twice and I've worn the same black jacket every day, so often that I think if I put it outside it would walk to the ball park by itself.
From Betty in Portsmouth…I wondered if you miss the environment of the old ballparks?  You've been writing about cigars and once upon a time you could go to old Crosley Field and actually buy them from the vendors.  My grandpa would take me and buy one of those things and fire it up and tell me it was part of the smell of the game.  They were black and disgusting looking and I can't remember the brand.   I just remember that he caught hell from my grandmother when he got home because he wasn't supposed to smoke and she could smell it on him.  Those were good days.
Hal:  Betty, surely those cigars didn't smell any worse than the old smokestacks from the iron mills in Portsmouth. It wasn't too long ago we were permitted to smoke in the press boxes, even cigars. Now I fear I might get arrested by the Clean-Air cops if I smoke in my Man Cave. I really don't miss many old ball parks because the working facilities were awful and the clubhouse small and crowded. But, yes, I do miss firing up and blowing smoke while I pounded the keys. Now I just stick one in my mouth, use my imagination, and still pound the keys. By the way, they used to serve free beer in press boxes, but no more. Can't even buy it. If people ever wondered why so many sports writers had drinking problems, well, they have watched them pound the keys and pound the beer at the same time.
From Matt in Greenville…MLB was talking about all the great young shortstops in the major leagues recently and did not mention Zack Cozart.  In your opinion is he one of the best , or will he be one of the best.  How does he stack up with the rest?
Hal:  Matt, when you refer to MLB, I assume you mean MLB.TV. And you can lump ESPN in there, too. When it comes to Cincinnati, the big networks think it doesn't exist or perhaps they think there are no TVs in Cincinnati. They ignore Cozart, who in my opinion, is a very good shortstop who is going to get better and better and be one of the best. Catcher ryan Hanigan suffers the same thing. He, too, is one of the best. But last winter MLB-TV listed its top five catchers and didn't even mention Hanigan, not a sniff, not even an honorable mention. How dishonorable is that?
From Tim in Troy…Hal, what happened with Dioner Navarro.  He did so well at the end of last season and now I see him with the Cubs.  Was that his choice or the Reds?
Hal:  Tim, that was the Reds' choice not to keep him. He would command too much money as a backup catcher because Ryan Hanigan will do most of it. And the Reds would like Devin Mesoraco to emerge as the backup for a couple of years and eventually take Hanigan's place. As for Navarro, yes, it was his choice to sign with the Cubs. He had to have a job, y'know.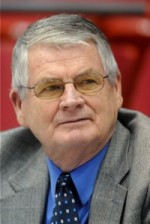 From Mark in Hilliard…Hal can you tell me why the Reds have changed managers at Louisville so much in recent years.  Rick Sweet was there for a while and last year David Bell.  Now it's Jim Riggleman.  What happened with Sweet and Bell, and why is there so much turnover?
Hal:  Mark, I wish I could answer that, but that's something that comes from the front office and the next time they ask me my opinion will be the first time. I love Rick Sweet. He was there for a long time and did a great job. He would love to get a crack at managing a major-league team and he deserves the chance. But now that he is just an instructor with the Reds his chances are fast slipping bye-bye. David Bell did not work out and was let go. Jim Riggleman has major-league experience and if, God forbid, something would happen to Dusty Baker with his health (he seems fully recovered from his heart murmur late last year), Riggleman has the experience to step in. I just don't understand why Rick Sweet still isn't Lousivlle's manager.
From Kirk in Troy…Why are the Reds letting Votto play for the Canadian team, but they won't let Cueto play for the Dominican team in the world baseball tournament?  They were both hurt last year so why let one play and not the other?
Hal:  Kirk, the Reds are letting Votto play. He hasn't even made up his mind if he wants to play. It is the same as Cueto. When it came time, the Reds invoked their right to prevent Cueto from playing due to medical reasons. Votto says when or if he decides he wants to play, he'll discuss it with the Reds medical staff, the front office and Dusty Baker. The Reds might try to invoke the medical thing again, but if he goes the next week or so showing no signs of lingering pain and it is time to make a decision, he can dispute any medical claim by the Reds. We'll see how it plays out, but he hasn't decided yet what he wants to do.
Note:  If you have a question for hall feel free to send it via email…sonny@pressprosmagazine.com…or on the Press Pros Facebook page.

DCS Specialty Packaging is privileged to sponsor hall of famer Hal McCoy's weekly columns on Press Pros Magazine.com