Baseball has lost one of its nicest giants, but his memory will dwell forever in the memory of anyone fortunate to have met him in his one and only visit to Miami County.
This coming May 17th marks the third anniversary of the passing of baseball hall-of-famer Harmon Killebrew, a gentle giant of a man who was great on the field, but even greater for his respect for the fans who paid to see him play and loved him long after his retirement.  In remembrance, we're pleased to publish again this column from a year ago…pleased to remember Harmon and his graciousness to mankind, everywhere.  –  Sonny Fulks

"I couldn't be happier than to be in Troy, Ohio," he said, a twinkle in his eye as Harmon Killebrew got into my car at the Dayton Airport on May 2, 1999.
"Actually,"  I said.  "You're not in Troy yet."
"Well that's OK,"  he said with an embarrassed grin.  "I never take any chances on offending someone."
That was the kind of guy hall of famer Harmon Killebrew was, and that was exactly the thought I had when I heard that terrible Tuesday, May 17th, 2011,  that the humble hero of the Minnesota Twins had passed away after a determined battle with cancer of the esophagus.
In 1999, Troy's Presentation Weekend honored Minnesota artist David Maass on the occasion of his 30th anniversary in wildlife art with the Wild Wings Publishing Company, of Lake City, Minnesota.
Maass is a huge name in wildlife art, known throughout the world for his canvases of upland gamebirds and waterfowl.  But known as he was for his own celebrity, David Maass was a huge fan of Minnesota's two most popular sports franchises, the Twins and the Vikings.
And so it was arranged to contact Killebrew and former Vikings coach Bud Grant to come to Troy for an appearance at a reception to be held at the Troy Country Club for David Maass.  Grant never responded.  Killebrew called back within an hour, delighted to help honor a fellow Minnesotan.
"Will there be any opportunities to play golf?"  he asked.
"You play?"  I asked.
"What?  You think Johnny Miller's the only Mormon who plays golf?"  he said with a chuckle.  "I just got both knees replaced and I'm dying to try 'em out on the golf course."
And golf he did, participating in a benefit scramble at Troy Country Club, shifting between foursomes so he could meet as many people as possible.
At the evening banquet, Maass was floored at Killebrew's surprise appearance, and moved to the point of being speechless when Harmon presented him with a personalized bat, a Twins jacket, and other personal mementos.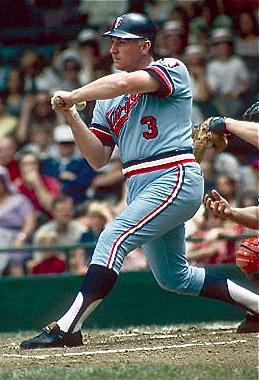 Afterwards he signed box after box of baseballs for sponsors of the event with his trademark Harmon Killebrew, HOF '84 signature (he was inducted into Cooperstown in 1984) .  And not one time did he ever suggest that his signature was worthy of a fee, or complain about signing more than once.  He was just happy to make other people smile.
Of all the major leaguers that I've met in my life, Harmon Killebrew struck me as one who appreciated those who enjoyed watching him play baseball more than any other player.
There's the story about how in Cleveland one time a group of fans had a painted sign that read, Harmon Killebrew Fan Club.  Killebrew noticed them, inquired during the game about who they were, and sent word by a ball boy that he would meet them after the game if they would hang around.  Not only did he meet them, he walked back to his hotel with the group instead of riding the chartered bus with the rest of the team.
He hit 573 career home runs, which ranked 5th on the all-time list at the time of his retirement in 1975.  Eight times during his 22 professional seasons he hit 40 or more home runs, barely missing 50 in 1969 when a ball he hit into the center field stands at Fenway park was mistakenly called a double by umpire Bill Kinnamon.
He was elected to Cooperstown in 1984, along with Luis Aparicio, Don Drysdale, Rick Ferrell and Pee Wee Reese.
"Not bad for a kid from Payette, Idaho,"  he would say shyly with those who would for years afterwards congratulate him on his enshrinement.
Just days before his passing Killebrew issued this statement concerning his rapidly deteriorating condition.
"It is with profound sadness that I share with you that my continued battle with esophageal cancer is coming to an end. With the continued love and support of my wife, Nita, I have exhausted all options with respect to controlling this awful disease. My illness has progressed beyond my doctors' expectation of a cure.

I am comforted by the fact that I am surrounded by my family and friends. I thank you for the outpouring of concern, prayers and encouragement that you have shown me. I look forward to spending my final days in comfort and peace with Nita by my side."
Somewhere, I'm sure a lot of people were eager to see and welcome Harmon Killebrew to the other side when he left this life that Tuesday morning.  No doubt, as happy as Killebrew was to see those who painted signs and waited outside ballparks to see him at the height of his illustrious big league career.
I dare say as happy as Harmon Killebrew was to be in Troy…once upon a time.