With plenty of 2003 walleyes – and older ones, too – a new state record could be caught on the big lake this year.  If the weather and algae cooperate, it should be a banner year on Lake Erie. 
  Editor's note: The state bag limits for Lake Erie will be the same this year as last year: 30 yellow perch and 6 walleyes (4 until May 1).
There is a chance – a pretty good chance – a new state record walleye could be caught this year on Lake Erie.
"I think it will be a good year, but it has to be a good weather year … not the year we had last year. If we have a normal amount of rain … just a normal spring and summer … we'll have a good fishing year," said Roger Knight of the Ohio Division of Wildlife.
It will be the year of the trophy fish, mainly because the fish hatched in 2003 – one of the largest hatches ever – will be nine years old. That means they will be 22-30 inches. There will likely be many Fish Ohio walleyes (28 inches) caught in 2012.
Knight said those fish will be abundant in the Western basin early in the spring and gradually move to the deeper Central Basin as the water temperature goes up. Already, fishing has been very good off of the reefs and in the nearshore area just off of the Davis-Besse power plant.
There should also be a good number of 2007-hatched walleyes caught. Those fish are 17-25 inches. Fish from 2005 will also be available, 19-27 inches.
Fish from 2010 will also be numerous. In fact, these are the ones you will have to measure. They will go 14-16 inches, meaning some won't make it to the 15-inch minimum limit.
"There will be a really good mix of sizes," Knight said. "Anglers should expect to see just about every size walleye.
"There are even some from earlier years. A walleye can live to be 25 years old, so you might even see a state record caught this year," Knight added. (The state record is 16.19 pounds, caught in 1999.)
Yellow perch
"Perch numbers will be similar to last year," Knight said. "And there will be better numbers and bigger fish the further east you go. The Central Basin all the way to the Ohio-Pennsylvania line will have the most perch."
Like the walleyes, the 2003 and 2007 hatches will make up the largest part of the population.
And there will be contributions from the '05 and '08 classes as well.
Smallmouth bass
Biologists continue to study the species and have had a do-not-keep season on all black bass during spawning time each year since 2004.
Early returns on the evaluation show improved hatches and improving numbers.
The idea is to allow bass more time to protect their nests from the dreaded round gobies, which will raid an unprotected nest and eat eggs and tiny hatchlings."
"The bass we're seeing are good size, many 14-22 inches," Knight said.
Some of the most popular bass fishing spots are off of the reef complex in the Camp Perry firing range and around the Bass Islands.
Lake Erie's no-harvest season for bass is May 1-June 28.
Algae blooms
The most important topic around the lake last year was the toxic algae blooms that took over much of the Western Basin, especially late in the summer.
"We will have to see what happens this year," Knight said. "Some of it was weather driven, due to the large amount of rain we had. Of course the problem goes way beyond that, but better weather will make some difference."
He said some fishermen said they had no problem catching walleyes right through the algae.
Others, however, were turned off by the stinky goo and stayed away.
The governor and all the governor's men are working on the problem to keep that from becoming permanent.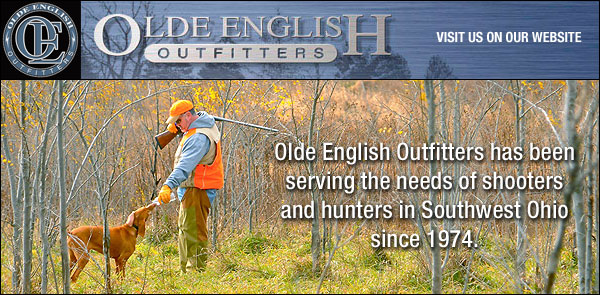 Our comprehensive selection includes over 1500 guns, a full line archery "Pro Shop", shooting & hunting clothing, boots, ammunition, reloading equipment, gun cases, holsters and a multitude of other shooting & hunting accessories.
Olde English Outfitters meets the needs of serious sportsmen and casual enthusiast alike. This is truly a store for all your shooting and hunting needs.
Open this year's hunting season with a trip to Olde English, proud to sponsor outdoors columnist Jim Morris on Press Pros Magazine.com!